Inner Mongolia seeks cooperation with Israel
By Zhao Xiao (chinadaily.com.cn)
Updated: 2016-10-20
On Oct 19, Li Jiheng, secretary of the Inner Mongolia Party Committee, and Bu Xiaolin, president of Inner Mongolia autonomous region, met with the majority shareholder of Israel Corporation Idan Ofer in Beijing.
Li Jiheng conveyed warm greetings to Idan Ofer and introduced the current economic and social development in Inner Mongolia.
Li expressed that under the leadership of China's central government, Inner Mongolia has been earnestly implementing the national development strategies such as the Belt and Road Initiative, the coordinated development of Beijing-Tianjin-Hebei area, and the rejuvenation of old industrial bases in Northeast China.
In recent years, Inner Mongolia has made great efforts to promote the development of clean energy, modernized coal chemical industry, nonferrous metal production and processing, organic agricultural and livestock products, along with cultural tourism, which showcases modernization and industrialization in Inner Mongolia, said Li.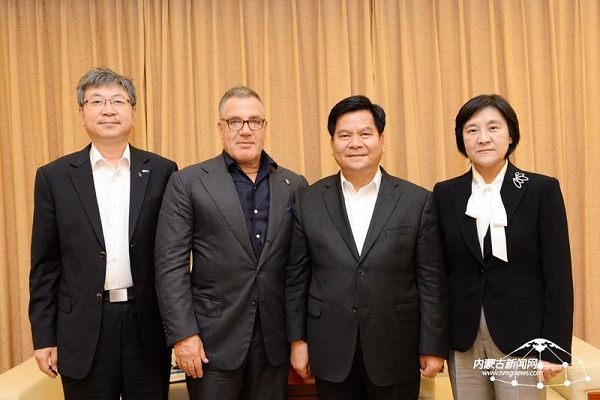 Li Jiheng (second from the right), secretary of the Inner Mongolia Party Committee, and Bu Xiaolin (first from the right), president of Inner Mongolia autonomous region, meet with Idan Ofer (second from the left), the majority shareholder of Israel Corporation, on Oct 19, in Beijing. [Photo/nmgnews.com]
Famed for high-tech industries, Israel keeps pace with world-leading advanced technologies, such as electronic telecommunication, biotechnological engineering, aviation exploration, and so on.
As Israel's largest holding company, Israel Corporation owns a powerful capacity for finance and technology, and has already invested in a lot of projects in China.
The Inner Mongolia government hopes to strategically cooperate with Israel Corporation in comprehensive fields like new energy, chemical engineering, equipment manufacturing, environmental protection, and technological innovation.
And the government will firmly support Israel Corporation with preferential policies and create a better investment environment, added Li.
Idan Ofer appreciated the warm greetings of Inner Mongolia officials, and thought highly of Li Jiheng, who all-inclusively introduced and analyzed the present situation in Inner Mongolia.
Inner Mongolia possesses plentiful resources, broader markets, and potential prospects, and Israel Corporation hopes to conduct multi-aspect collaborations with Inner Mongolia in the near future, added Ofer.
Zhang Yuanzhong, member of the Standing Committee of the CPC Inner Mongolia autonomous region, and Yin Tongyue, chairman of the Chery Automobile Corporation, also attended the meeting.
Celebrated as Israel's biggest holding magnate, Israel Corporation was founded by the Israeli state government in 1968, and almost a half of its manufacturing activities and 70 percent of its consolidated revenues are derived from global markets and operations. It is main involved in the fields of fertilizers, specialty chemicals, energy, shipping, and transportation. It is also a constituent of the TA-25 Index of leading shares of the Tel Aviv Stock Exchange.
Idan Ofer, an Israeli business magnate and philanthropist, is the founder of Tanker Pacific and the principal of the Quantum Pacific Group, a holding company. He is also the majority shareholder of Pacific Drilling, listed on the New York Stock Exchange, and the Israel Corporation, listed on the Tel Aviv Stock Exchange, as well as Kenon Holdings, listed on both stock exchanges. Furthermore, he is involved in shipping, drilling, chemicals, energy, and mining, along with donations to business colleges.