China's Mongolian scholar honored with Polaris Medal
(chinadaily.com.cn)
Updated: 2016-09-29
Buren Jiri Gala, a Chinese Mongolian ethnic scholar, was awarded Mongolia's supreme honor "the Polaris Medal" by Te Dorji, the vice president of the Mongolia Science Academy of Sciences, at the Inner Mongolia Normal University (IMNU), on Sept 26.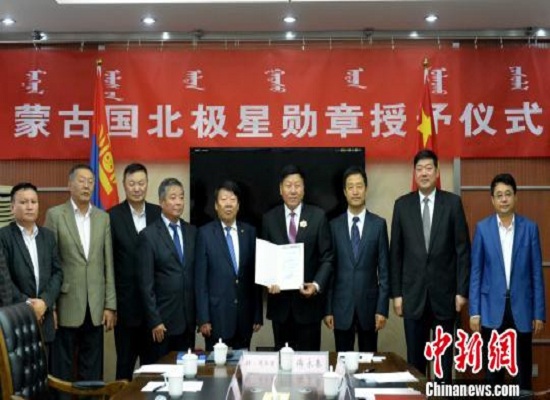 Officials and experts pose at the award ceremony of Mongolia's Polaris Medal for Buren Jiri Gala (the fourth from the left), at Inner Mongolia Normal University, on Sept 26. [Photo/chinanews.com]
Founded in 1936, the Polaris Medal is set to award outstanding soldiers and civilians who have contributed to national security and defense, economy and culture development, and other fields. Nowadays, the medal has also been granted to worldwide individuals who have dedicated themselves to Mongolian related research and promotion.
Qian Qichen, the former vice premier of China's State Council and Mijid Baasanjav, a Chinese actor who played the role of Genghis Khan in a film, received the honor many years ago.
This year, over a dozen of global experts and specialists have been presented the honor, and among them three are from China; Quejing Zhaburong, a member of the International Association for Mongol Studies; Rinchin Dorji, an expert from the Chinese Academy of Social Sciences; and of course the newest recipient, Buren Jiri Gala.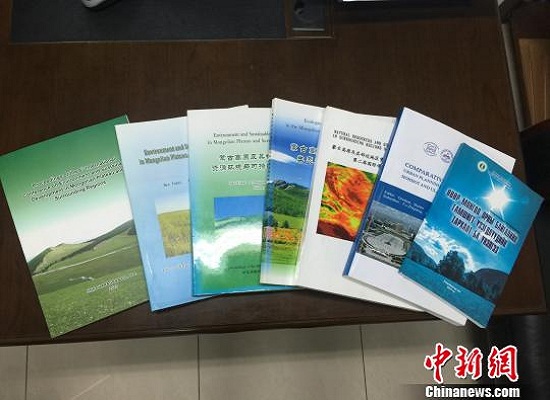 Some books and academic papers written by Buren Jiri Gala in recent years are related to research on the environment, land resource management, and natural disaster prevention. [Photo/chinanews.com]
Buren Jiri Gala, head of the IMNU's Natural Disaster Prevention Research Institute and a post-graduate instructor of the Land Resources Management, has dedicated his career to research on ecological environment and disaster prevention, and also took part in the layout project of Ulaanbaatar, the capital city of Mongolia.
Bao Siqin, deputy director of the Development Research Center of Inner Mongolia, said that Buren Jiri Gala has devoted himself to the establishment of a China-Russia-Mongolia Think Tank, and made great efforts on the communication and collaboration between the two countries.
"The Polaris Medal granted from the Mongolian government is not only an honor for me, but also encourages and inspires my team to continue studying land resources and ecological protection," Buren Jiri Gala said. He also emphasized that the achievement could not have been made without support from many other experts and teammates in the field.
Officials and experts at the award ceremony expressed their common hope that the Polaris Medal can enhance Sino-Mongolian relations and promote cooperation between the two countries.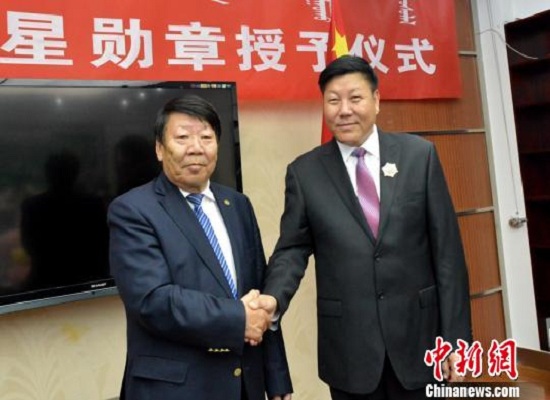 Te Dorji (left), the vice president of Mongolia Science Academy of Sciences grants the Polaris Medal to Buren Jiri Gala (right) for his commitment to Mongolia's city construction projects, at Inner Mongolia Normal University, on Sept 26. [Photo/chinanews.com]