IMNU celebrates 32nd Teachers' Day
(chinadaily.com.cn)
Updated: 2016-09-12
On Sept 8, the Celebration Gala of the 32nd Teachers' Day was held at the musical hall of Inner Mongolia Normal University (IMNU), Inner Mongolia autonomous region.
Themed as "dedicated to teaching, striving for greatness", the evening gala invited some officials, retired educators, current teachers, and college students to attend.
Outstanding representatives in the fields of teaching, scientific research, and logistics were interviewed by two hosts from Inner Mongolia Radio and Television Station. Later, some of them also performed Mongolian-style singing and dancing on the stage.
During the interview, college faculty members talked about their working achievements and experiences within their fields. And they expressed their great passion and enthusiasm toward teaching as well as affection for IMNU.
Ge Menghe, a 79-year-old retired IMNU teacher, addressed the spirit of ancient Chinese teaching and learning relationships, and how he practiced those principles during his teaching career.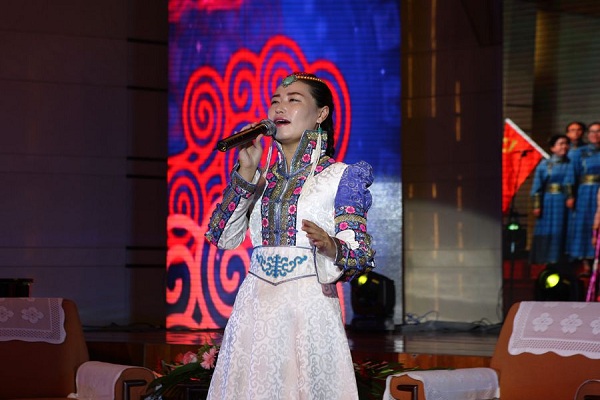 Professor Jiang Zeyang from the College of Liberal Arts performs on the stage after the interview on Sept 8. [Photo/imnu.edu.cn]
Fu Yongchun, secretary of IMNU's Party committee, said that, "Education is our common career, and IMNU is our mutual home. With the awareness of responsibility, IMNU will focus on the cultivation of talent, spreading the ethos of respect, and the improvement of studying and living conditions."
"Teachers should undertake the task of cultivating talents both in morals and knowledge, which urges our teachers to not only master academic or scientific researches and facts, but also endeavor to set examples for students in morals, spirituality, and faith," expressed Zhang Baocheng, head of the university's publicity department.
The celebration was jointly organized by the IMNU's Publicity Department, the Inner Mongolia Radio and Television Station, the Youth League Committee and Music Institute of IMNU.
University officials and faculties pose on stage after the celebration of the 32nd Teachers' Day on Sept 8. [Photo/imnu.edu.cn]