China-Mongolia horse racing
(chinadaily.com.cn)
Updated: 2016-09-07
On Sept 6, the China-Mongolia Horse Racing Event kicked off at Abag Banner, Xilin Gol League, in Inner Mongolia autonomous region.
More than 200 jockeys and 500 racehorses from Inner Mongolia and Mongolia are to participate in the three-day event.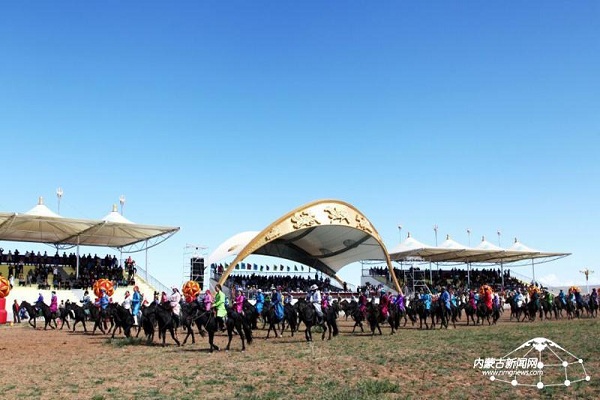 Horse parades enter the dusty arena during the opening ceremony of the China-Mongolia Horse Racing Event, at Abag Banner, Xilin Gol League, on Sept 6. [Photo/nmgnews.com]
During the opening ceremony, parades of white-horses, bay-horses, golden-horses, and Mongolian-horses, marched on the stage, delighting the assembled crowd. Hundreds of tourists took out their cell phones to capture the spectacle on camera.
The event includes eleven activities, such as a 30 kilometers race for adult horses, a 15 kilometers race for four-year-old horses, a 7.5 kilometers race for two-year-old horses, a competition on lassoing horses, and an archery contest on horseback.
The relationship between China and Mongolia has deepened in recent years, including various exchanges between the two countries in the fields of art, culture and sport. Through this event, the friendships between the two countries will be further strengthened, according to the local government.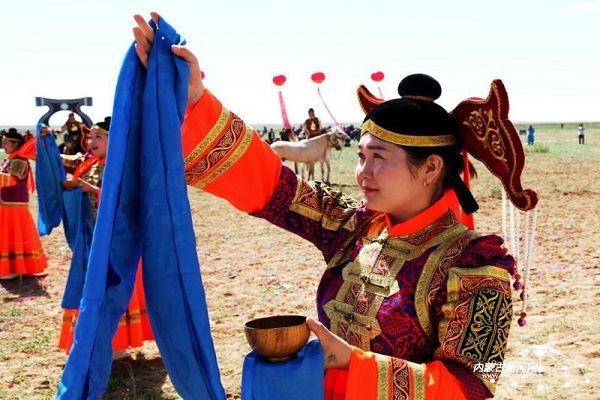 Performers present traditional Mongolian ethnic customs during the opening ceremony, on Sept 6. [Photo/nmgnews.com]
"It's the first time for me to watch the high-level rivalry between Chinese and Mongolian jockeys at our grasslands, and it's really exhilarating", said a herdsman from Bieligutai, a town of Abag Banner.
A forum on the development of the horse industry in Abag Banner will be held after the competitions.
Awarded as "black horse town" by the China Horse Industry Association, Abag Banner has owned over 9,000 black horses. And the breeding of black horses, the processing of mare's milk, along with the horse races have boomed local economy and tourism.