Bonfire festival brings tourists to Oroqen
By Zhao Xiao (chinadaily.com.cn)
Updated: 2016-09-01
The 26th Oroqen bonfire festival took place at Oroqen Autonomous Banner, Inner Mongolia autonomous region, attracting hundreds of tourists from across the country to gather at the event.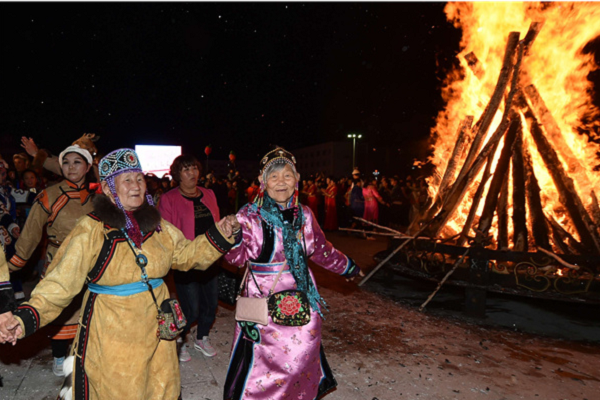 Locals and tourists, hand in hand, dance around a bonfire, at the 26th Oroqen bonfire festival, in Oroqen Autonomous Banner, Inner Mongolia. [Photo/northnews.cn]
The festival included various events, such as an exhibition of Eskimo paintings, a photograph show on cultural heritage of the Oroqen ethnic group, a futsal soccer invitational (a version of five-a-side soccer), storytelling, folk singing and dancing, and many other types of activities.
A tourist from Guangzhou said that the festival was a good chance to appreciate the culture of the Oroqen ethnic group.
Since ancient times, the Oroqen people have been living by hunting and fishing, and thus a unique forest hunting culture has formed. As time goes by, the function of bonfires has been transformed from keeping warm and cooking, into celebrating the harvest or praying for good fortune. Nowadays the festival has also become an important local tourist attraction.
With ethnic customs, forests, historical sites, and amazing scenery, Oroqen has established five travelling towns in the countryside, four forest parks, and eight national-level nature reserves.
Through a series of events, like the Xing'an azaleas festival and the Yi Saren ice and snow festival, Oroqen was given an award for its achievement on cultural festivals in 2015; and over 546 thousand people came to visit the banner, bringing revenues of 437 million yuan ($62.4 million).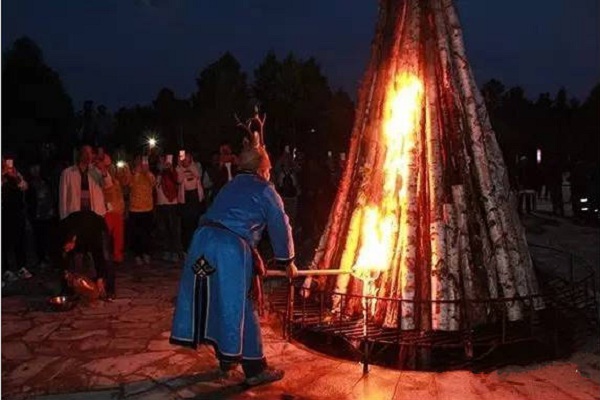 A herdsman lights the fire at the 26th Oroqen bonfire festival, in Oroqen Autonomous Banner, Inner Mongolia. [Photo/northnews.cn]