Wedding via WeChat trending up north
(chinadaily.com.cn)
Updated: 2016-01-28
There was a special wedding ceremony last week in the city of Baotou, Inner Mongolia autonomous region, which was broadcasted on WeChat, a social media platform, to let guests enjoy it and communicate with the newly-weds with real-time wishes and messages, according to Baotou Daily of Jan 25.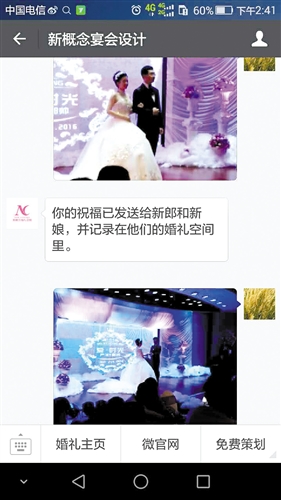 Homepage of the wedding ceremony. [Photo/Baotou Daily]
People wanting to take part in the ceremony had to scan a bar code that took them to a homepage for the ceremony. As Ms Zhang, who took part says, "I wrote down my wishes for them and soon I saw my words on a big screen in the hall."
Zhang was also able to take part in a lottery later, on the public homepage, and got a prize - a monkey doll - and says cheerfully, "It was so much fun and amazing."
Xiao Yan, the groom, says he really enjoyed the ceremony and concludes, "We wanted to make the ceremony interactive and fashionable with the aid of new communication technology to share our happiness and wishes with all the guests."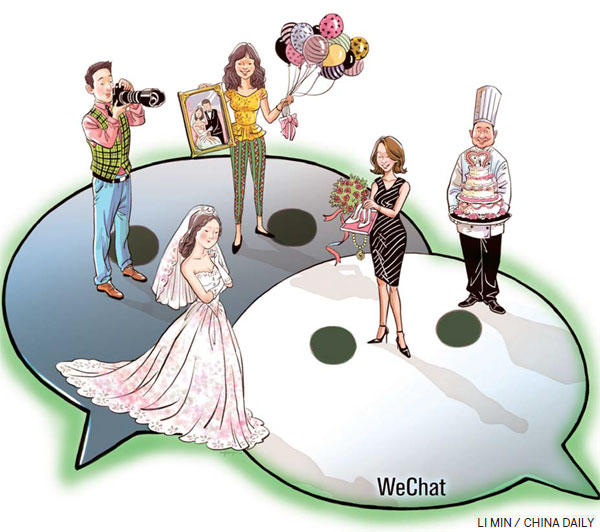 Cartoon of a wedding on WeChat. [Photo/China Daily]
The chairman of the Baotou wedding industry association who was in charge of the ceremony, Song Wei, says, "This all became a reality thanks to an App from Alibaba," referring to China's e-commerce giant.
Song adds that the App has other functions, such as picture sharing on the homepage and live broadcasting, and an e-invitation function is coming soon.
He concludes by saying that these sorts of tailored weddings are becoming more popular today and that they are looking to brighter prospects in the wedding business.