Children's rights and basic education reform seminar kicks off in IMNU
(chinadaily.com.cn)
Updated: 2015-07-01
Inner Mongolia Normal University (IMNU) has organized a two-day international seminar on children's rights protection and basic education reform, in Inner Mongolia autonomous region, beginning on June 24, in Hohhot.
Four representatives from Lund University in Sweden attended the seminar, which is sponsored by the Inner Mongolia Education Research Center on Child Development and Protection.
The center has been devoting to the education and research on children's development and protection since it was approved by the region's department of education in June, 2014.
In his talk at the seminar's opening ceremony, Zhang Haifeng, vice-president of IMNU claimed that as a normal university, IMNU is obligate to take responsibility for advanced education concepts' promotion and to integrate children's rights protection into the university's education.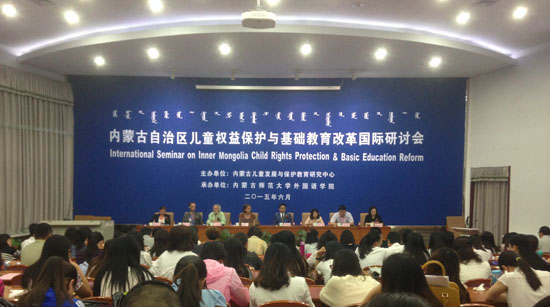 The Internatioinal Seminar on Inner Mongolia Child Rights Protection and Basic Education Reform is held in Inner Mongolia Normal University on June 24, in Hohhot. [Photo/China Daily]