Chinese Yili Group launches European 'benchmarking tour'
By Huang Mengxin (chinadaily.com.cn)
Updated: 2015-06-16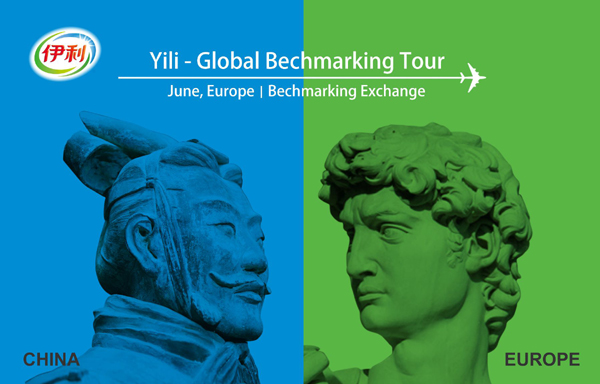 A delegation from Inner Mongolia Yili Industrial Group Co Ltd, one of the world's top 10 diary companies and a leading diary enterprise in China, set off on June 8 to Europe for an investigation and exchange trip dubbed its "benchmarking tour". The group was made up of the company's management team, headed up by Yili Group Chairman Pan Gang.
During the tour, the group visited Unilever, Royal DSM, Robobank, Philips, Friesland and other transnational enterprises and went to Food Valley, Wageningen University and the Holland Research and Development Center to learn more and exchange experiences in innovation, corporate culture, precision management and food safety. Analysts said the communication would further intensify Yili's innovation capacities and competence and contribute to boosting the company's international processes.
Companies that participated in Yili's "benchmarking tour", which ends today, are leaders in several different sectors and industries. With their engagement in different fields, both guest and hosts discussed development concepts, exchanged views on managerial experience and probed into cooperation prospects for exchanges between domestic and overseas benchmarking companies and innovation-oriented development of diary companies in China.
Pan said that China is on its way to building a "learning-oriented society" and he aims to create a "learning-oriented corporation". Yili, as an enterprise with an open mentality and learning spirit, takes a gradual, progressive learning attitude to boost its sustainable innovative growth, Pan said. Participating managers agreed that the tour would give them a new mentality toward corporate advancement and expand their international horizons by learning from and talking with top international companies about technologies, products, capital, brand, experience and culture. It is believed that Pan Gang always takes the internationalized learning of the leadership seriously, and he has led the management team to investigate and study to Asia, Europe, Oceania and America on many occasions.
Since the Belt and Road Initiative was proposed by Chinese leadership in 2013, Europe and Asia have become increasingly connected, providing a strategic opportunity to speed up interconnectivity and cooperation between Chinese and European companies.
Yili was listed among the world's top 10 diary companies in 2014. At the end of 2014, Pan set a new goal to reach the global top five by 2020 and to boost sales from tens of billions of yuan to hundreds of billions yuan. He also decided to establish innovation and internationalization as a "double engine" for development. Guided by these goals, Yili launched its benchmarking tour.
The international exchange event is a significant step for Yili, said Pan, who added that "a future can only come out of innovation". In recent years, Yili has held a firm foothold in key sectors of international diary research and development, integrated its overseas and domestic R&D resources and created a global innovation network covering leading R&D institutions.
In the past year, through implementing a "globalized wavering" strategy, Yili has created a large network encompassing systems for global resources, innovation and marketing, said Pan.
He said amid economic globalization, regional integration and rapid integration of global industrial chains, Chinese companies should intensify exchanges and learning from top-notch global companies to propel inter-connectivity and yield win-win results. They should also intensify innovation and international capacities, take part in the competitive global industrial chain and reinforce the international influential force of Chinese companies to march towards world-class companies, Pan added.
As the largest dairy producer with the fullest product-lines in China, Yili Group has provided the nation with dairy products for years. Yili served both the Olympic Games and the World Expo in China and in 2014, the group saw revenues of 54.436 billion yuan, with net profits hitting 4.167 billion yuan, ranking it top in the Chinese diary industry. Yili was ranked among the top 10 companies in Rabobank's 2014 Global Dairy Top 20 Report and was the only Asian dairy enterprise listed in the global top 10.