Xilingol starts construction for clean energy transmission
(chinadaily.com.cn)
Updated: 2015-05-07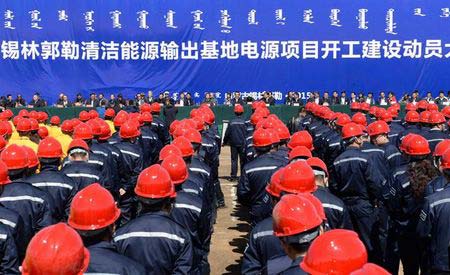 A mobilization meeting launches the construction of a clean energy base in Xilingol League on May 6. [Photo/northnews.cn]
China Shenhua Energy Company started the construction of two sets of generators with 660 megawatts capacity in Xilingol League, Inner Mongolia, as a coal power plant of the ultra-high voltage (UHV) transmission project between Xilingol and Shandong province.
China has mapped out nine modern coal power bases and 12 transmission channels in Western China, to implement the state air pollution prevention and control action plan. As these projects reach completion, they will basically meet the power demand in the Beijing-Tianjin-Hebei-Shandong region, the Yangtze River Delta and Pearl River Delta before 2020, cutting the standard coal consumption by over 100 million tons per year.
Two UHV transmission channels, connecting Xilingol League with Jinan in Shandong province and Taizhou in Jiangsu province were included in the 12 key transmission projects. The two channels will provide clean power to Beijing, Tianjin, Hebei and Shandong. They are estimated to transmit 18,000 mw of power to destinations per year, with coal consumption about 70 million tons annually.
The league is also home to one of the nine coal power bases, Xilingol clean energy output base.
Xilingol-Shandong UHV transmission lines have seven auxiliary projects, including 12 sets of 660 mw generation facilities and two sets of 350 mw heat supply facilities, with total installed capacity of 8,620 mw. These projects will begin construction soon. A total of 33 billion yuan ($5.32 billion) will be invested to these projects, which are estimated to put into operation by 2017.
The channel's coal power projects will apply the most advanced coal-generation technology.