Program intends to reclaim desert land
By Wang Sujuan and Fu Chao (chinadaily.com.cn)
Updated: 2015-05-06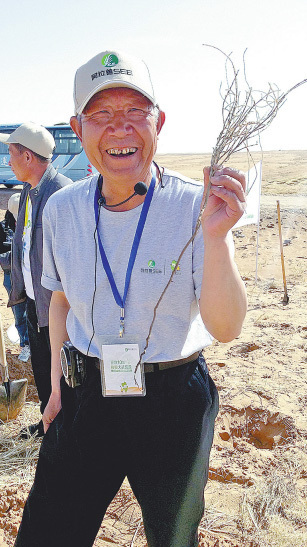 Li Zhiyuan, a desertification expert who is retired from the Chinese Academy of Sciences, participates in a suosuo planting campaign in the Inner Mongolia autonomous region on May 1, 2015. [Photo/China Daily]
Entrepreneurs unite to help improve ecological environment
More than 600 people from around China gathered in Alxa League in the Inner Mongolia autonomous region on May 1 to plant suosuo, a plant that can survive in the desert and help prevent further desertification.
The event was part of the Alxa SEE Association's "One Hundred Million Suosuo" program, which aims to plant 100 million suosuo in 10 years in the prefecture and cover an area of about 1,330 square kilometers with desert plants.
The program was launched last year and this year's objective is to plant 7.5 million suosuo.
The Alxa Society of Entrepreneurs and Ecology Association was established by Ren Zhiqiang, a well-known entrepreneur and former chairman of Beijing-based Huayuan Real Estate Group. The association also invited two more renowned entrepreneurs, Yuan Yue and Mao Daqin, to join the program. Both attended the May 1 planting.
Ren said he hopes that via the "One Hundred Million Suosuo" program, all of society can become more integrated to tackle environmental issues.
From March, local herdsmen, residents of Alxa and SEE members from around the country have participated in the program.
The program also raises funds via the Internet. For each donation of 10 yuan ($1.60), one suosuo will be planted.
Alxa League, located in the western part of Inner Mongolia, used to be an oasis of abundant plant life.
However, the region's ecological barriers have been largely destroyed. Logging has removed two-thirds of the secondary forest in the Helan Mountains. The suosuo forest, which used to stretch from east to west, has also been cut down. Juyan Lake in the region dried up in the 1990s.
The Alxa region today is covered by desert and wasted grassland.
The deserts are encroaching at an average rate of 1,000 sq km per year, making Alxa the largest source of sandstorms in the country. The inhospitable ecological environment has led to many local herdsmen leaving their hometown.
The "One Hundred Million Suosuo" program is a joint effort between the Alxa SEE and the local forestry department. When its target is reached, it will create a green belt that can stop the encroachment of the three large deserts in the region.