A Green Legend of Mu Us Desert wins Lu Xun Literary Prize
(chinadaily.com.cn)
Updated: 2015-02-03
A Green Legend of Mu Us Desert by the Inner Mongolian writer Xiao Yilong was granted the Lu Xun Literary Prize on Sept 23. The Lu Xun Literary Prize is one of the four top honors in Chinese literature. This was the first time that a literary work from Inner Mongolia received this prize. It was recognized as a landmark in local literary history.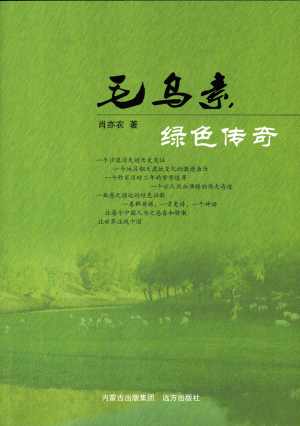 A Green Legend of Mu Us Desert
The book is a record of the changing times, which focuses on the theme of desertification control and the philosophical thought of a harmonious relationship between man and nature. It is a work of global significance and universal value.
The chairman of the Inner Mongolia Writers Association believes this award will enhance the confidence of other Inner Mongolian writers to focus on their cultural background, themes and creativity.
A symposium on A Green Legend of Mu Us Desert was held on Sept 23 in Inner Mongolia.
Edited by Michael Thai