Ulanmuqir troupes to receive subsidy of 14.6 m yuan per year
(chinadaily.com.cn)
Updated: 2015-02-03
Ulanmuqir means "red bud" in the Mongolian language. It is a type of art troupe particular in Inner Mongolia.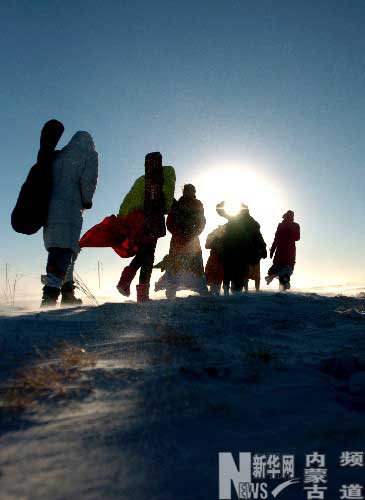 An Ulanmuqir troupe heads for the destionation for a performance.[Photo/Xinhua] 
A work conference of Ulanmuqir troupes was held in Hure Banner, Tongliao, on August 26. A subsidy for the Ulanmuqir troupes will be established. The Ulanmuqir troupes in the region's banners and counties will be granted a subsidy of 14.6 million yuan ($2.34 million) in total per year.
There were only two troupes with 21 members in the earlier stages of Ulanmuqir development. To date, there are now 76 teams, with more than 2,800 members. The Ulanmuqir troupe has been included in the region's public cultural services system. Most of the troupes have been equipped with mobile stage vehicles.
In 2012 and 2013, 46 troupes performed at the grassroots levels for more than three months each year, with more than 90 shows. Some shows were inspired from the real lives of local herdsmen and farmers.
Edited by Michael Thai