Digital culture covers 420,000 square kilometers of grassland
(chinadaily.com.cn)
Updated: 2015-02-03
"We can watch movies and read books online after accessing Wi-Fi with mobile phones from this little box, including books about cultivation techniques," a herdsman from Sonid Right Banner said on June 27.
The little box is actually a portable mobile digital station that has three levels. Its first level was set in Sumu (an administrative division in Inner Mongolia equivalent to a township), where the Internet is accessible. The second level was established in concentrated settlements far away from Sumu and without Internet access. The third level included unfixed herdsmen settlements.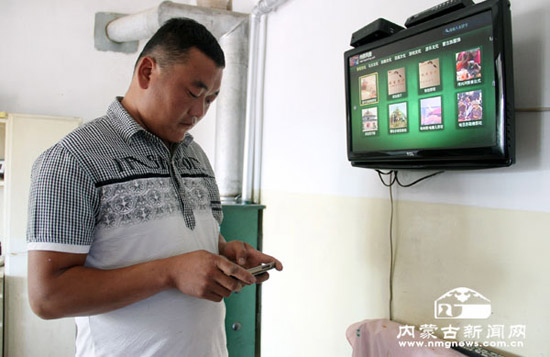 A man downloads movies through the portable mobile digital station.
Each level has digital resources totaling roughly 2-4 TB, just like a small library. Through the portable mobile digital station, the herdsmen can access online digital resources using mobile phones and other terminal devices.
This kind of portable mobile digital station is a part of a digital project in Inner Mongolia known as "Bring Digital Culture into Mongolian Yurts", which aims to make digital culture available on the grassland.
A total of 14 banners and counties in seven leagues and cities were designed as pilots for the project. More than 100,000 herdsmen and farmers are benefiting from this project, which covers an area of 42,000 square kilometers on the grassland.
The experiences gained from this project can be applied in digital culture construction in China's border areas, according to the opinions of experts in related fields. As a mature service model, it could be promoted in the country's border and costal provinces.
Edited by Michael Thai