Xilinhot uncovers 1,500-year-old lacquer coffin
(chinadaily.com.cn)
Updated: 2015-02-03
On March 8, a lacquer coffin belonging to the aristocracy in the Northern Wei Dynasty (AD386-534) was opened in Xilinhot.
The pinewood coffin was painted in black lacquer on the surface and covered with silk inside. It was decorated with images of people with distinct ethnic Xianbei characteristics.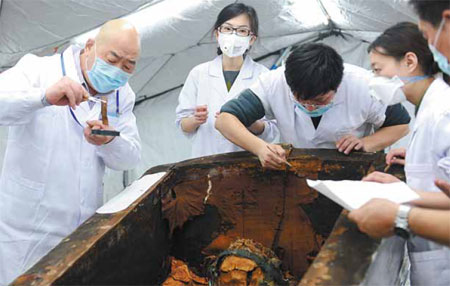 Archaeologists identify cultural relics found in a double-deck lacquered coffin unearthed in Zhengxiangbai Banner, the Inner Mongolia autonomous region. [Photos by Zhang Ling / Xinhua]
The tomb's owner lay on her back in the inner coffin wrapped with yellow cloth. She wore a metal headband on her head, a necklace around her neck and a belt around her waist. Knives and swords were found in the coffin, while some potteries were discovered in the lower deck.
The tomb was built in a structure with long sloped aisles. It was identified as a part of a family burial ground according to its location, structure and unearthed objects. In addition to a lacquer coffin, four pottery wares, three iron lamps and eight bronze guard-of-honor hooks with dragon heads were also excavated in the tomb.
This burial area is a significant aristocratic burial relic in the pasture region dating to the Northern Wei Dynasty, according to An Yongde, head of the Culture Relics Bureau of Inner Mongolia. It's a rare discovery from this dynasty in domestic archeology, especially as it is well-preserved and unopened.
Edited by Michael Thai