Official website of Hohhot Baita International Airport online
By Liu Yufen (chinadaily.com.cn)
Updated: 2015-01-15
The official website of Hohhot Baita International Airport, www.hhhtbtjc.com, went online on Jan 7, offering various information services for passengers in a simple way.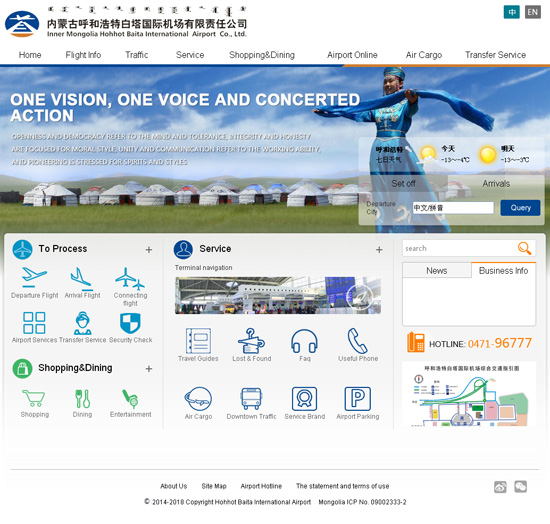 The official website of Hohhot Baita International Airport
This website was designed with an aim to "offer effective information service to passengers". The information part was a top priority in the website's layout.
In the column "Services", a sub-column of "Online Customer Service" will provide services around the clock.
For those traveling by plane for the first time, they will include detailed boarding procedures on the homepage's "To Process" section. When users input their destinations in the search box at the upper right corner on the homepage, they can assess the corresponding flight information in real time.
Comprehensive information about shopping, dining and recreation in the terminal can be found in the "Shopping and Dining" column, as well as all kinds of promotional activities.
In addition, the website's other parts, such as "Terminal Navigation", can help passengers board their flight conveniently. The "Traffic" will direct users to traffic around the airport.
The official website is designed to offer accurate information about the airport on time, to guarantee passenger convenience and a comfortable flight.
Edited by Michael Thai