Inner Mongolia explores new football development model
By Liu Yufen (chinadaily.com.cn)
Updated: 2014-12-18
A work symposium on football reform and development was held in Inner Mongolia's Erenhot on Dec 16.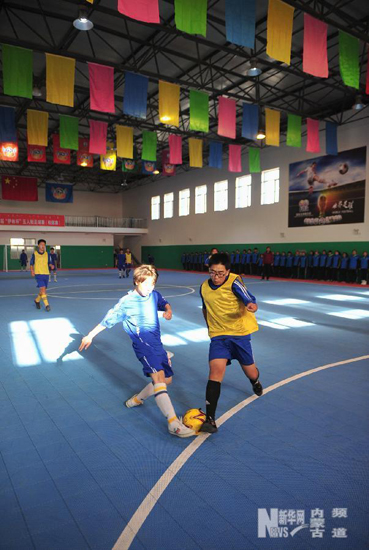 Students play football in the newly reconstructed indoor football ground in Erenhot No 2 Middle School, Inner Mongolia, on Dec 16. [Photo by Lian Zhen/Xinhua]
The autonomous region will vigorously boost football reform and development, integrate relevant work into various economic and social sectors, and explore a football development model with local characteristics.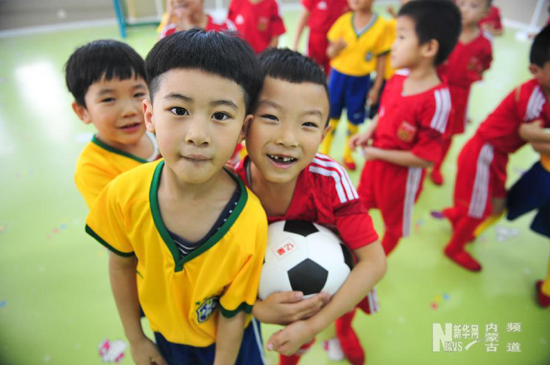 Children in Erenhot municipal kindergarten have a football class on Dec 16 in the Inner Mongolia autonomous region. [Photo by Lian Zhen/Xinhua]
First, the region will adapt football reform and development to new circumstances. Second, it will properly deal with relations among campus football games, social football games and professional football games. Third, the region will properly deal with relations between football reform and development and other undertakings. In addition, Inner Mongolia will make full use of the market mechanism, open more public football venues to the public, strengthen football talent development, and constantly improve the publicity and guidance mechanism.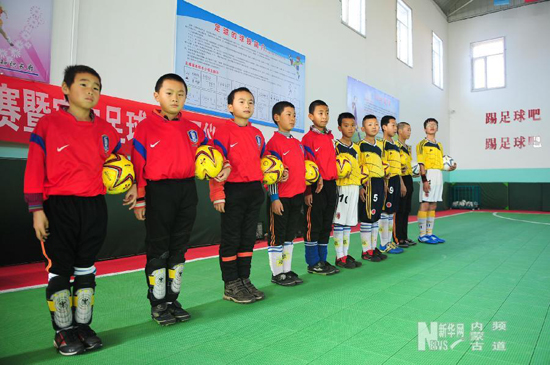 Boys prepare for football training in Erenhot No 2 Primary School in the Inner Mongolia autonomous region on Dec 16. [Photo by Lian Zhen/Xinhua]
"Inner Mongolia will bring football reform into national reform and implement the innovation mechanism," said Tan Jingfeng, director general of the local sport bureau.
"The region will strengthen responsibility awareness, take initiatives to live up to public expectations, combine the soccer dream with the national dream, improve public physical fitness, and win honor for the country and region. In addition, the autonomous region will establish and improve organization, policy and regulations, league matches and training systems."
Edited by Michael Thai