International strategic cooperation upgrades Yili's global quality management system
(chinadaily.com.cn)
Updated: 2014-08-13
Recently, Yili Group, one of the top 10 global dairy enterprises, has reached strategic cooperations with three global leading companies in the field of quality verification, namely SGS headquartered in Switzerland, LRQA (Lloyd's Registered Quality Assurance) and Intertek from the UK. The strategic agreement will help upgrade Yili's global quality management system.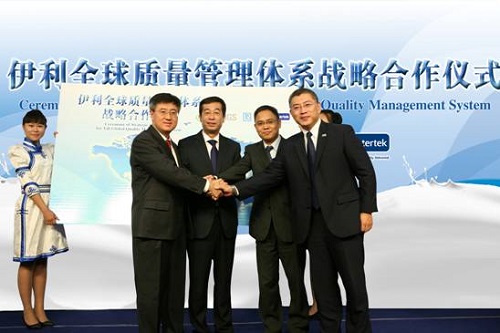 Representatives of Yili, SGS, LRQA and Intertek are on hand at the ceremony of strategic cooperation for the Yili global quality management system.
Yili is dedicated to meeting consumer requirements on products by utilizing global resources. Through international research and development, the dairy giant endeavors to provide both nutritious and healthy dairy products to consumers. At present, through cooperation with world leading quality assurance giants, Yili's upgraded quality management system will better fulfill consumer expectations for food safety, said Zhang Jianqiu, executive president of Yili.
To date, Yili has already set up a quality management system that covers all staff and every procedure in a comprehensive way, in addition to a food safety risk monitoring system at three levels, including the group, business department and factory. Yili's inspections for all its raw milk, raw materials and final products total 1,003 presently.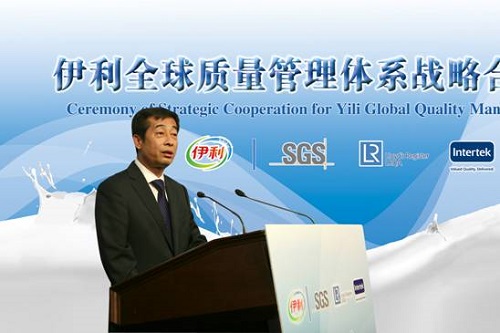 Zhang Jianqiu, executive president of Yili, makes a speech at the ceremony of strategic cooperation for the Yili global quality management system.
Meanwhile, Yili has mapped its technical layout for dairy products quality safety and upgrade in Europe. At the end of this March, the first China-Netherlands food safety guarantee system was established with Yili's cooperation at Wageningen University in the Netherlands.
SGS, LRQA and Intertek enjoy great popularity in the world's quality consulting scene. SGS is the top quality verification organization in the world and is globally recognized as a benchmark of quality. LRQA is an international certification organization with 250 years of history. Intertek has been a partner of Yili for over 10 years and has its own advantages with regards to food quality and safety services.
Yili has chosen the three quality certification companies for further upgrade. The three companies applaud Yili's "quality-driven strategy." They agreed that Yili's production processing and quality inspection are internationally advanced.
Yili's quality-driven strategy as a core strategy for the enterprise's sustainable development paves a way for its rapid growth in the next five to 10 years, according to the opinion of Gu Xiaoyu, vice-president of SGS's Greater China region.
Some industry expert analyses showed that the strategic cooperation was a significant step for quality management internationalization, following the dairy giant's internationalization in resource and R&D.