Watchinng World Cup in a yurt
By Matt Hodges (China Daily)
Updated: 2014-08-01
The great grasslands experience can be rugged, but not if it is cushioned by unexpected touches of luxury, thanks to a pairing with the Shangri-La Hotel Hohhot. Matt Hodges finds out more about crisp white sheets, satellite TV and gourmet cuisine.
War games were once the order of the day on the Inner Mongolian grasslands, those vast tracts of Asian prairie that have seen centuries of power play between Chinese Han and Mongolian armies. They were peopled by ferocious armies, nomadic tribes and wolves.
They have since been replaced by Range Rovers, bonfire dances and wolf pelts lining the inside of Mongolian gers. Instead of shaven-headed warlords, leathery old women haunt roadsides on parked motorbikes to shepherd tourists into their yurt resorts.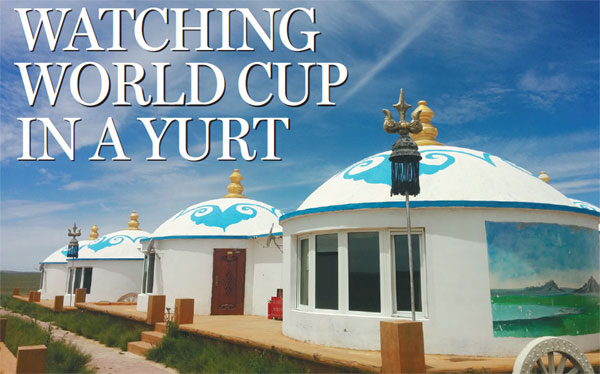 Shangri-La Hotels worked with the campsite to build three brand-new yurts with all modern amenities for its guests. Photos by Matt Hodges / China Daily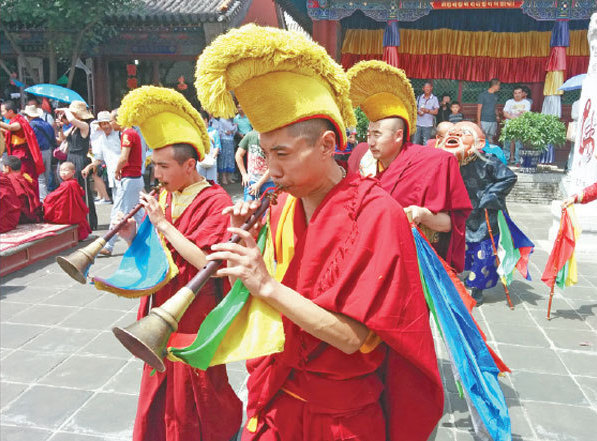 The grassland experience also includes Mongolian culture and color.
Nowadays, the Xilamuren Grasslands that lie 90 kilometers north of the provincial capital Hohhot are almost silent, except for the sound of the wind (and wind turbines) and the occasional beaten-up engine as farmers herd sheep on two-wheelers, or locals try to sell photos to tour groups.
Yet many of the old traditions live on among the local people.
In the early hours of one recent morning another sound erupted in the middle of the wilderness: "Go Argentina!"
The Brazilian World Cup may sound like an unexpected blip to appear on the radar in this remote northern autonomous region, but it proved possible last month courtesy of the Shangri-La Hohhot Hotel, which rents several deluxe yurts at the Jingdi encampment.
The twin single bed accommodation boasts freshly laundered linen, satellite TV, coffee, creamer and an ensuite bathroom with hot water. This adds a five-star twist to the average tourist's experience of nomadic life in the modern-day wilderness.
It also meant we could enjoy the best of both worlds: the latest penalty shootout from 17,000 km away in Sao Paulo as well as glimpses of animal husbandry and warlike rites of passage that date back 800 years to the days of Genghis Khan.
The three yurts were built last year and are made from brick rather than fabric stretched over wooden ribs. They also command the best views of the prairie and its sunset.
This is just one way in which the Shangri-La makes its guests feel pampered.
After a day spent riding horses, watching old women make yogurt from freshly pumped cow milk, and being treated to a reenacted war ritual at a wooden fortress, some people won't want to join the common folk eating lamb intestine soup at the main dining tent. Others may.
To go that extra mile, the hotel will happily drive its star chefs over from Hohhot to rustle up sirloin steak, sushi salad, mango pudding and more. Breakfast can be European, American, Mongolian or other Chinese cuisine. For the local choice, add plenty of spicy seasoning and mutton.
The day's itinerary is also open for negotiation. Try your hand at the "three manly sports" of wrestling, archery and horseback-riding. Learn about the tradition of piling rocks to worship the gods, known as aobao. Or just let your imagination run riot on this empty plateau 1,200 meters above sea level as you sip manaijiu, the horse-milk liquor that is neither white nor milky but plenty potent.
After a five-day trip that began in Baotou ("the land of deer" in Mongolian), the region's most populous city, and would end farther east in Hohhot, a five-star yurt may have compromised our nomadic credentials, but it was just what the doctor ordered.
Midsummer and early fall are considered the best times to travel to Inner Mongolia because of the relatively cool weather. This period also coincides with the Nadam Fair, a showcase of horse racing, shooting and wrestling that takes place over several days between July and August.
The Shangri-La Hotel is offering a five-day grasslands promotion until Sept 15 that includes a tailored itinerary and four nights at its two properties in Baotou and Hohhot for 20,088 yuan ($3,245) per person.
Both hotels are around seven years old and are situated downtown beside lush green parks with lakes. The Hohhot property feels newer due to renovations made two years ago.
The BBQ buffet (around 130 yuan) including pork chops, shellfish and scores of other options is highly recommended at both venues, but especially for dinner in Hohhot as singers treat guests to humai or Mongolian throat singing performances on a glass deck over the pond.
A meal at Shang Palace, the hotel chain's signature Cantonese restaurant, should also be considered, if only for its spicy mapo tofu, prawns in sweet sauce on a basket of crispy noodles and lamb in tortilla wraps.
For those on a lower budget, the Shangri-La Baotou can customize Mongolian cultural trips as part of its Holiday in Style package, which starts from 999 yuan per night. The deal includes complimentary buffet breakfast at Xin Cafe, full use of the pool and gym, and a $50 dining voucher.
Contact the writer at matthewhodges@chinadaily.com.cn
(China Daily 08/01/2014 page18)