Inner Mongolia builds pollution-free mutton industry
(chinadaily.com.cn)
Updated: 2014-06-30
Inner Mongolia has decided to transform itself into a green agricultural and animal products processing facility, creating a new opportunity for the local vegetable industry. President Xi Jinping expressed his hope in the region's transformation on the eve of the 2014 Spring Festival. The region has begun to upgrade its mutton industry this year to build its brand, expand its market, and raise industrial scale and level.
It's a month before mutton production starts at Xilin Gol League's Saihantala town in Sonid Right Banner on May 20.
The head of the local herdsman cooperative raised 800 Sonid sheep on 15,000 mu (1,000 hectares) of grassland. The head has led a total of 14 local households to wealth through two breeding models, one featuring company, cooperative and herdsmen and the other involving company and family-run pastures. The herdsmen signed sales contracts with meat companies the moment the sheep were born to ensure stable sales price, according to the head.
Last year, the Sonid mutton was priced at 52 yuan ($8.38) per kilogram, and family heads made more than 200,000 yuan for the 300 sheep they raised. The head moved the mutton harvest time to June 20 as a response to Sonid Right Banner's call for effective and disaster-free animal husbandry development, which earned him an extra 13,000 yuan in subsidies. The early harvest can effectively protect pastures and ensure sustainable industrial development, according to the local government. Sonid Right Banner has given local herdsmen more than 30 million yuan in subsidies to encourage the early harvest.
The head said that he had used the increased income to add a sheep greenhouse, a solar and wind power generator, a freezer and a greenhouse electronic eye, which can monitor every corner of the greenhouse.
"Mutton industry development has not only increased local income but also effectively pushes for scale and scientific development of sheep breeding," said an office director at the Sonid Right Banner's industrialization office.
QR code ensures quality and safety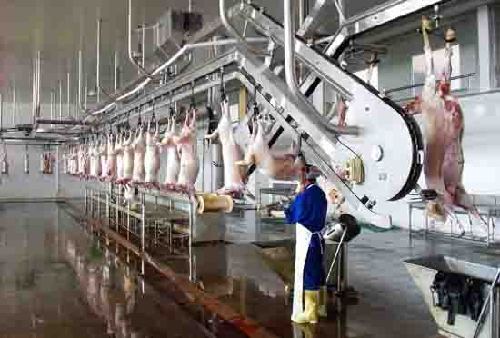 The modern mutton production line of Xilin Gol League Meat Co.[Photo provided to Chinadaily.com.cn]
As one of the three major mutton facilities in China, Xilin Gol League has plentiful sheep from Ujimqin and Sonid. It is setting up whole-course and trace management for high-end and refined mutton development.
"We have our own sheep breeding facility in Xilin Gol League and built a mutton industrial association to form an industrial system featuring company, facility and herdsmen," said Meng Xiaodi, general office director at the company. At the moment, the company has integrated sheep breeding, slaughtering, processing and sales, which ensures the mutton quality, according to Meng.
The integral industry chain has ensured food safety. Last year, the company put an intelligent ear tag on each of the 40,000 sheep, costing the company more than 600,000 yuan. It will spend 4 million yuan to put the device on another 200,000 sheep this year. The ear tag can set up a health record for each sheep, and consumers can scan the QR code to get detailed information on the sheep's age, weight, living conditions, test results, slaughter time and logistics, according to Liu Qingshan, the company's production manager. "Consumers can check every link in mutton production, sales and processing," Liu added.
Once quality and safety is ensured, products need to be promoted through a price strategy. Insiders all agreed that Xilin Gol's mutton has to position itself well on the market. They should aim at high-end customers, standardize the whole technical process, and make a refined product design to make the best mutton nationwide.