Sound of the grasslands
By Chen Jie (China Daily)
Updated: 2014-06-24
A music producer from Inner Mongolia has gathered some of the best musicians from the remote region to play their music to audiences across the globe. Chen Jie reports.
It was early morning when 30-year-old Altengaro bid farewell to his 600 sheep and 50 horses on the pasture at Xilin Gol League, the Inner Mongolia autonomous region, and set off for Beijing. After a 12-hour bus ride, he went directly to a small studio with his hubosi (a Mongolian plucked stringed instrument) on Dongsi Street, where his "brothers" were rehearsing for their first tour to North America.
"We can smell the grass scent on him," says Zhu Zhizhong, 52, the producer who gathered these Mongolian folk musicians and formed the band Ih Tsetsn in 2008.
The group will perform at the 2014 Smithsonian Folklife Festival in Washington from June 25 to 29 and July 2 to 6, before moving to Toronto's Harbourfront Center to participate in the China Now Festival from July 11 to 13.
Altengaro has not seen his bandmates since they last performed in Beijing six months ago. But when they start to play, it is as if no time has passed.
Zhu, who was also born in Inner Mongolia, has been producing ethnic music for nearly 20 years. In 2004, he produced a program featuring ethnic bands for China Central Television's Music Channel, and he met many Mongolian musicians performing in bars and restaurants in Beijing.
Their performances of morin khuur (Mongolian stringed instrument), khoomei (throat singing) and urtiin duu (long song) made Zhu nostalgic, and he decided to do something to promote the music of his homeland.
"The morin khuur and khoomei are prominently connected with Mongolia's nomad culture. The history dates back to the Mongol empire in the 13th century. This is not only music, but an integral part of rituals and everyday activities of Mongolians," Zhu says.
In 2008, the two-stringed fiddle morin khuur was inscribed as UNESCO's Intangible Cultural Heritage. Beijing was hosting the Olympic Games, and China's culture was in the spotlight. In July that year, Zhu arranged for some Mongolian musicians to perform in the Forbidden City Concert Hall.
It was such an unexpected success that officials of the concert hall wanted them back. Their fame soon led to more opportunities.
The seven musicians formed a band with the name Ih Tsetsn. In Mongolian, ih means wide and generosity while tsetsn means wisdom.
All the members come from herdsmen's families and learned to play their instruments when they were young from their parents or folk artists. Some went on to receive professional training and others joined the local ensembles.
Altengaro learned hubosi from his uncle at 15. After serving in the army for two years, he opened a bar in his hometown in Xilin Gol. He hosted some folk musicians and sometimes played with them.
"A herdsman's life is healthy and simple. I could earn some 500,000 yuan ($80,000) a year. But when you are young, you dream of exploring the world outside the grasslands," he says.
He left home to attend the Minzu University of China in Beijing and has been involved in the ethnic music scene since 2000.
Bayinmunk, 35, was born in the grasslands of Ar Horqin. He learned to play the morin khuur at age 5 from his mother.
He was visiting friends in Beijing in the spring of 2003 when SARS broke out. The city was quarantined. He was unable to return home and started to perform at bars in the capital.
"At first, it was partly for fun and partly to make a living in Beijing. Our performances were popular and many people asked me about Mongolian music, culture and nomadic life. I realized I have a responsibility to introduce and promote the culture," Bayinmunk says.
Ji Jargal, 31, learned sihu and the morin khuur with a folk artist at a young age. In 1999, the Baotou Art School in Inner Mongolia was recruiting dance students. He accompanied a friend to the audition and during a break, he played the morin khuur. A teacher was so impressed he was admitted to the art school. He moved to Beijing in 2002.
Percussionist Baoyin, 37, was once a lead drummer with the Military Orchestra of the People's Liberation Army. He left the orchestra to study at Tokyo University of the Arts in 2001 and spent a few years playing with a Mongolian band in Japan.
"Collaborating with musicians from different cultures is interesting and helpful. Through improvisation, we broaden the use of Mongolian instruments as well as create new trends in the world music," the drummer says.
Born in a folk musician's family, Borjigin-kho, 31, his sister and younger brother all learned traditional instruments from their father.
"Music is in our blood," says Borjigin-koh. "We tame animals with the morin khuur and celebrate festivals with long songs. The old people tell Mongolian legends with the morin khuur and a 2-year-old boy will pick up either a morin khuur or a hubosi."
After graduating from the National University of Mongolia in Ulan Bator, Borjigin-koh came to Beijing and worked with musicians from different countries.
Though most Mongolians now live in urban towns, far from the morin khuur's historical and spiritual home, the surviving nomadic communities preserve the musical tradition.
"The same dream to explore the world outside the grasslands has brought us together to perform in big cities and tour abroad. But we never forget our roots. We keep returning to the grasslands every year for nutrition," says Altengaro.
Contact the writer at chenjie@chinadaily.com.cn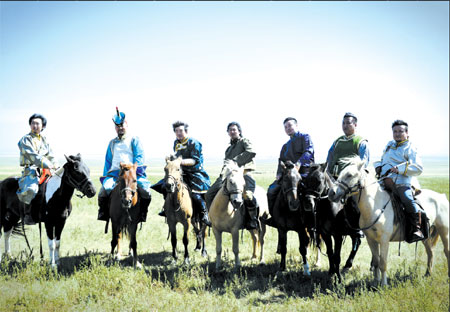 The seven members of the band Ih Tsetsn were all born and raised in the grasslands, where music plays a vital role in Mongolian people's lives. Provided to China Daily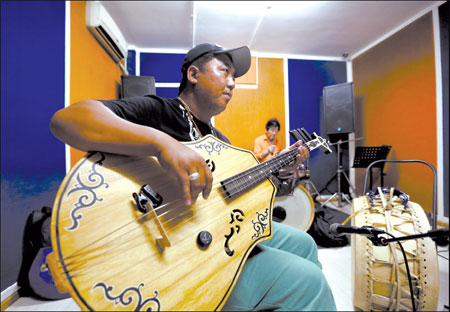 Altengaro, a musician from Xilin Gol, says his dream of exploring the world outside the grasslands brought him to perform in cities and abroad. Jiang Dong / China Daily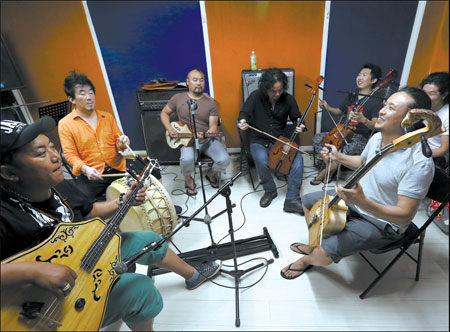 Mongolian musicians gather in Beijing to prepare for their upcoming tour of North America. Jiang Dong / China Daily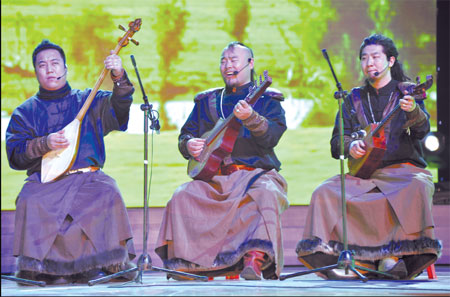 The band Ih Tsetsn's popularity in China has grown with its performances. Provided to China Daily