New economic model breathes life into desert control
By He Yini (chinadaily.com.cn)
Updated: 2013-11-05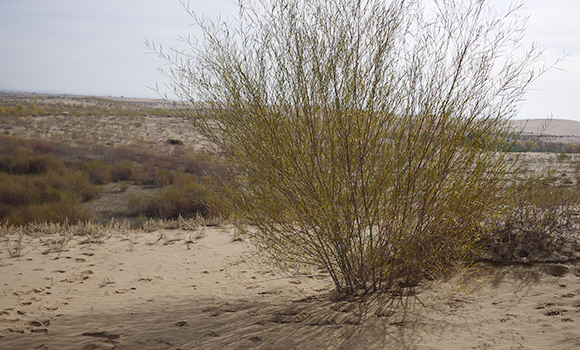 Salix psammophila, a kind of shrub that can easily survive and grow in a desert because of its well-developed root system, is seen at the Maowusu desert in Erdos, a southwestern city of the Inner Mongolia autonomous region, Oct 20, 2013. The plant is widely known as "green coal" for power plants with much cleaner emissions and more thermo capacity when burned. [Photo by He Yini / chinadaily.com.cn]
Wulan Dalai, one of the many herdsmen in Erdos, a southwestern city of the Inner Mongolia autonomous region, never thought his sand land as part of the Maowusu desert would one day become a cash cow.
Like other herdsmen, he used to pin all his hopes on the hundred-odd sheep and cows he'd feed to boost his yearly income, which during good periods could reach 20,000 yuan ($3,282).
But that amount was apparently dwarfed compared with what he has been earning since he cooperated with the China Inner Mu Biomass Power Company back in 2003.
The private Chinese company, dedicated to pioneering a new economic path that integrates desert control with biomass thermoelectricity and spirulina production in China, has been seeking sand land with aquifers to plant Salix psammophilas, creating the first link of the whole chain.
A good start, halfway there
Salix psammophila, a kind of shrub that can easily survive and grow in a desert because of its well-developed root system, is widely known as "green coal" for power plants with much cleaner emissions and more thermo capacity when burned.
"One magic thing about Salix psammophila is that it has to be cut down every three to five years in order to survive, or it will die in its sixth or seventh year," said Chen Yuchuan, general manager of the company. "Once sands are stabilized, grass and other kinds of bushes will naturally grow out."
And that's exactly the source of Wulan Dalai's money. He rents his sand land of more than four square kilometers to the company, and then participates in the process of tree planting, managing, cutting, transporting, etc. The rent, along with the errands combined, both earn him about 300,000 yuan a year.
"Now I feel much more motivated to plant trees on my land, because it can boost my income and help green the desert at the same time," said Dalai.
He is the first one to try this cooperation model with the company, and probably won't be the last.
Up until now, more than 240 km2 sand land has been greened. And the psammophila cut down are generating 200 million kilowatt-hours of electricity each year at the company's two power plants, bringing down carbon emissions by 250,000 tons annually. And over 7,000 local farmers or herdsmen are thus benefiting.
But this is not the end of the story just yet.
"The company has been losing money for five consecutive years due to various reasons," said Li Jinglu, chairman of the company. "Partly because the income generated from biomass electricity alone cannot offset all expenses along the years."
According to Li, the company has poured about 700 million yuan ($114.4 million) so far into afforestation and power plants in the region, with an accumulated loss of 225 million yuan.