Kammwamba 6*50mw Coal Fired Power Plant Project in Malawi signed by CGGC
Updated: 2013-06-05
( cggc.cc )
A contract signing ceremony was held on June 3 at the Diaoyutai State Guesthouse in Beijing for the Kammwamba 6*50mw Coal Fired Power Plant Project in Malawi, a major project to be undertaken by CGGC.
Ren Jianguo, member of CGGC party standing committee, vice president and chairman of board of directors of CGGC International attended the ceremony. Other important personages who witnessed the event include Malawian President Hon. Joyce Banda, Malawian Energy Minister Hon. Ebrahim Matola, China's ambassador to Malawi Pan Hejun and commercial counselor Hu Yujie.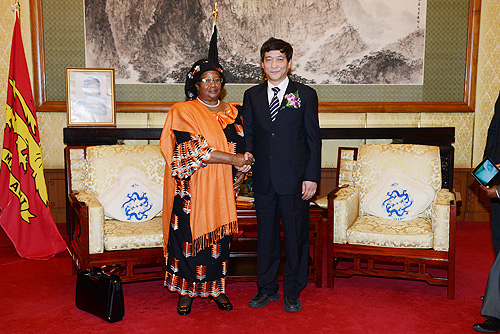 Ren Jianguo and President Banda (left)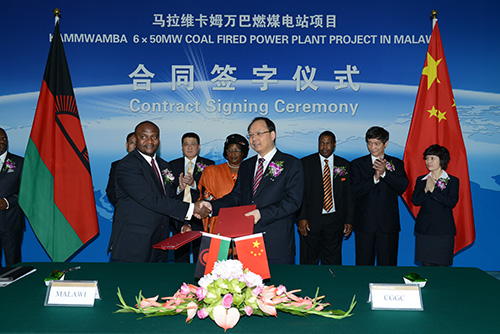 Scene of contract signing ceremony
Located in the south of Malawi, the project is adjacent to the Shire River and the M1 national highway and some 50 kilometers away from the city of Blantyre. Main construction work includes project design; supply and installation of steam turbine generator units; construction of workshops, auxiliary facilities and public utilities; construction of 15km-long 132 kilovolts double circuit transmission lines; construction of a 10 kilometers railway line for coal transport; as well as commissioning and trial operation of the power plant when the project is completed. Currently, the country's total installed power generation capacity is merely 286.95MW and only 7 percent of the Malawian population has access to electricity. When the project is completed the total installed capacity will be doubled, which will greatly ease the problem of power shortage.