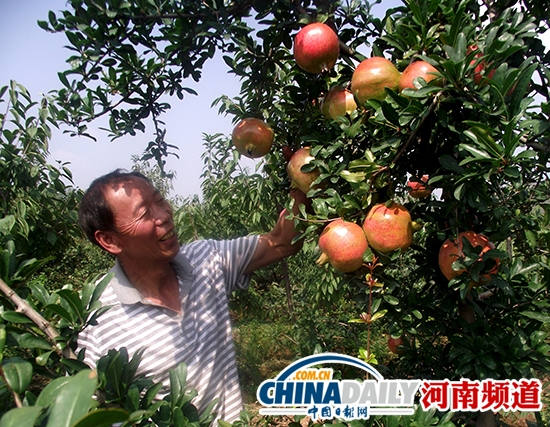 The park's owner, He Cihui, picks the fruit of pomegranate in his park, Oct 11. [Photo/chinadaily.com.cn]
The Ziyun Mountain Fruit Garden, an orchard in the city of Ruzhou, Henan province, has brought in a good harvest of an imported breed of pomegranates that it brought in from Tunisia in North Africa, producing large, attractive, bright red pomegranates that look almost like lanterns.
The owner of the garden, He Cihui, and his wife explained that the new species had many advantages over the local fruit and can do well in an urban environment and this particular climate, ensuring impressive results.
The 60-year-old He really loves his fruit trees and has more than 10 years of experience with them so he is a renowned grower in this area and is always experimenting and looking for better results. So, in 2011, he decided to use part of his orchard for the Tunisian species and, after two years of work, the orchard's ready for the harvest.
The pomegranates weigh over half a kilo each, with the biggest reaching one kilo and the average income from this pilot project is above 670 yuan per hectare, or about $2.5 per sq m. He said proudly that his fruit has won everyone's praise and more customers are coming to visit the park.
Some neighboring farmers also want to plant the same variety, and He says he's quite willing to give them advice.