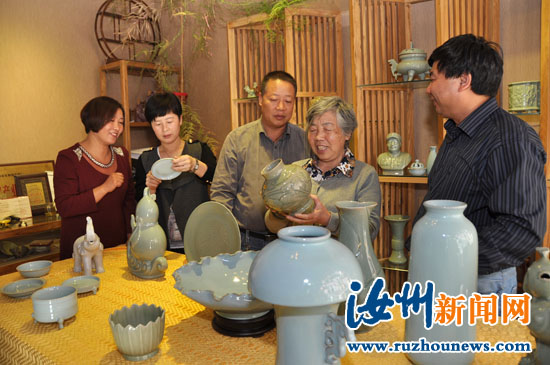 Meng Yusong (second from the right) and a group of artists examine and select Ru porcelain for charity sales on Sept 21, at Ruzhou, Henan province. [Photo/ruzhounews.com]
The first round of a selection process has begun, choosing from an assortment of Ru porcelain for a charity sale on Sept 21, guided by Meng Yusong, president of the ceramics association of Ruzhou, central China's Henan province.
The earnings of the Ru porcelain auction will be used to help local people below the poverty line. Since the launch of the activity by a joint effort of the city's charity association and the ceramics association on Sept 2, many enterprises have showed interest, and so far it has collected 37 pieces of work.
All the porcelain will go through a strict examination, by a committee of Ru porcelain artists led by Meng.