A Chinese artist has opened an exhibition of Buddha paintings in Manhanttan, stealing the attention of many American art lovers.
Liu Jianxia's exhibition opened at DIB Gallery on July 7, 2011. More than 500 people paid to meet her on the opening day.
Liu's works have been described as inspiring and touching. Chris Phelan, the supervisor who is in charge of special events in Rubin Museum of Art, regards Liu's works as one of the best modern Buddha painting he has ever seen.
"Entering the gallery, a blast of strength hits me,"said one American visitor. Liu's paintings have also been well received by journalists and artists. As a result of her success, Liu was honored with an "Outstanding Achievement Award" by Li Chengju, the chairman of the United Nations Artists Association, and Yao Jicheng, the chairman of Global Artist Alliance.
Liu says it's her obsession for Buddha that driven her to this point. "I have been interested in Buddha since I was graduated in 1993, because I believe in Buddhism. I painted my first Buddha in 1998. Ever since then, I can barely let it go. I have been to many sacred Buddha sites to study the art and culture of Buddha," Liu told a journalist.
Chairman of the United Nations Artists Association Li Chengju told an audience that Liu painted from her heart. "Her works were spiritual and intelligent," he said.
The exhibition runs through until September the 3rd.
Edited by Tania Lee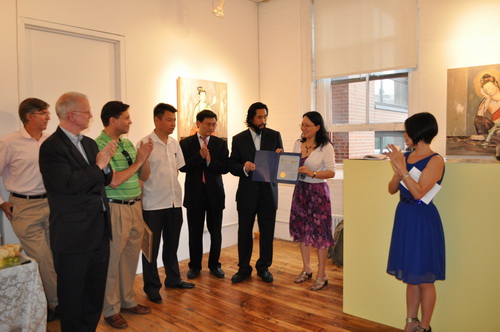 Liu Jianxia's exhibition opened at DIB Gallery on July 7, 2011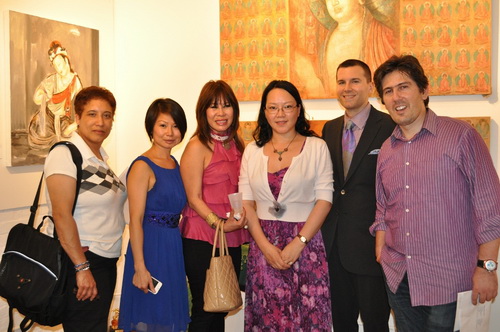 Liu Jianxia's exhibition opened at DIB Gallery on July 7, 2011