Rose festival to get underway in May
( chinadaily.com.cn )
Updated: 2016-05-12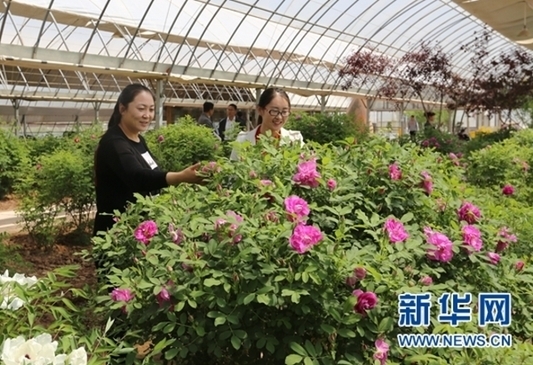 Visitors enjoy flowers in a rose garden in Kushui township in Yongdeng county, often called the "county of the rose", in Gansu province on May 10. [Photo/Xinhua]
Kushui township in Yongdeng county in the city of Lanzhou, Gansu province will hold a rose festival from May 18 to October, the county government announced at a press conference on May 10.
A number of rose gardens will be open to the public, highlighting rose cultivation, culture and tourism. Activities will take place such as the opening ceremony, a tangible cultural heritage exhibition and a meeting discussing the promotion of rose tourism.
The rose industry is one of Yongdeng county's biggest in the agricultural sector, with a history stretching back 200 years. The Kushui township in Yongdeng is famous for its high-quality roses and is often referred to as the "county of the rose", with nearly 1,333 hectares of land used for cultivation, producing eight million kilograms of roses every year.
Apart from Kushui township, 12 other towns with fertile soil in Lanzhou have planted roses. In recent times Yongdeng county has strengthened its efforts in developing the rose industry to help people improve the welfare of locals.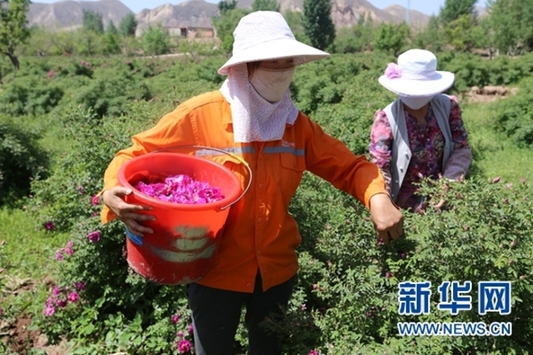 Farmers harvest rose flowers in a garden in Kushui township in Yongdeng county, Gansu province on May 10. [Photo/Xinhua]
The county's rose planting area has steadily increased year-on-year and the area now produces 100 categories of rose products, including rose essential oil, rose beverages and food.
The development of the rose industry is a driving factor in the growth of Yongdeng tourism. The Lanzhou Rose Festival has been held eight times in Yongdeng since 2008 and has become a characteristic tourist attraction in Lanzhou.
The Lanzhou Rose Festival is also an important part of Gansu's Dunhuang Tour-Silk Road International Tourism Festival.
Schedule of the 2016 rose festival
May 21 – June 1 Kushui township bicycle tour and hiking
May 23 – May 24 Rose picking activity
May 23 – May 25 Fishing activity
May 28 – Rose industry e-commerce summit
May 18 – July 3 Photo and painting exhibition
May 21 – May 22 County table tennis league match
July 4 – July 31 Rural square dance competition
Sept 25 – Oct 7 Fruit picking in autumn
Oct 1 – Oct 5 Qinqiang contests - a Chinese folk opera originating from Shaanxi province
Edited by Owen Fishwick