Jingyuan Taobao service stations to boost rural e-commerce
( chinadaily.com.cn )
Updated: 2016-05-04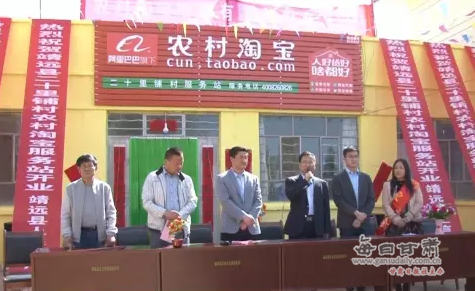 Jingyuan county in Baiyin city holds an opening ceremony for rural Taobao service stations on April 28. [Photo/gansudaily.com.cn]
A total of 30 Alibaba rural Taobao service stations opened to the public on April 28 in Jingyuan county, Baiyin city, Gansu province, marking the great advances the county has made in implementing an "Internet Plus" strategy.
The 30 service stations are scattered in 12 towns and villages.
On the opening day, the service stations made 5,672 deals, worth 7.21 million yuan ($1.11 million) of turnover, with 30 partners making 190 deals on average, each worth 240,000 yuan.
The service stations were established to help sale of local agricultural products through the Internet and to make online shopping accessible to locals. The service stations aim to help locals purchase things such as farming supplies and items for daily use, such as clothing.
Edited by Peter Nordlinger