Specialized planting cooperative promotes rural economy in Gansu
( chinadaily.com.cn )
Updated: 2015-12-29
Pingchuan district, in Baiyin city, Gansu province has set up the Shuangshun Specialized Planting Cooperative to help farmers prosper by growing Chinese chives.
The cooperative teaches farmers approaches of pest control and seedlings growth and help them sell the products. So far, the cooperative's annual output has reached more than 400,000 tons of chives, worth 16 million yuan ($2.47 million).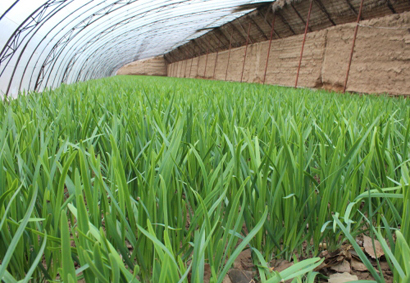 A greenhouse in Pingchuan district, Baiyin city, Gansu province. [Photo/ baiyin.cn]
Established in 2009, the cooperative now has 126 members and more than 400 greenhouses covering almost 67 hectares of land. Its products are sold to cities in Gansu and surrounding provinces, such as Shaanxi.
In 2014 the Ministry of Agriculture identified the cooperative's Chinese chives as a pollution-free agricultural product for its high quality.
To assist locals to alleviate poverty, the cooperative has provided service to six households in poverty in Shuangcha village.
Edited by Peter Nordlinger