NGO sues polluting companies for repair of damage
( China Daily )
Updated: 2015-08-21
An environmental NGO has filed a lawsuit against eight chemical plants that have been accused of polluting the Tengger Desert, asking them to stop the pollution and repair the damage.
The move is meant to deter polluters through growing public participation, experts said.
The Intermediate People's Court of Zhongwei, Ningxia Hui autonomous region, is expected to decide on Thursday whether it will accept the case.
In September last year, Mingsheng Variegate Co was shut down after it was found to have been illegally discharging untreated sewage into the neighboring Tengger Desert, the nation's fourth-largest desert.
Mingsheng was fined 5 million yuan ($782,000) in May for polluting the environment, and the manager responsible was sentenced to one and a half years in prison by the district court of Zhongwei.
Several other companies in Gansu province and the Inner Mongolia autonomous region, where the desert is, have been accused of dumping untreated sewage into the desert since last year.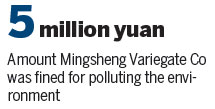 China Biodiversity Conservation and Green Development Foundation sued eight chemical plants, including Mingsheng, on Aug 13, the first public litigation against those accused of polluting the Tengger Desert.
The eight companies were fined for the pollution and the cost of cleanup, but they did not pay for violating the public interest, according to the non-governmental organization.
The organization is calling on the companies to stop the pollution, repair the damage, compensate for the losses and apologize to the public.
The organization said it may issue similar lawsuits against other polluters in other regions.
An expert from the organization who wanted to remain anonymous said the litigation is a warning to polluting companies by increasing their costs for damaging the environment, which is one of the goals of the organization.
Ma Yong, a researcher at a law center under the Supreme People's Court, said the move also deters polluters through improving public participation in environmental protection.
Contact the writers at zhengjinran@chinadaily.com.cn and caoyin@chinadaily.com.cn