Online sales of medicines are skyrocketing in China, with the total value reaching 7 trillion yuan ($1.1 trillion) last year, according to a report issued by the nation's top drug authority.
This compares with 4.3 trillion yuan in 2013 and just 100 million yuan in 2010. Treatments to boost male potency are among the top sellers.
The China Medicine Market Development Blue Paper contains online sales data from more than 300 government-recognized outlets and covers over-the-counter medicines and health products such as dietary supplements. Prescribed drugs and medical appliances are not included.
The best-selling medicines are donkey-hide gelatin products used to treat bleeding and insomnia, followed by treatments for erectile dysfunction and remedies for hair loss, the report says.
Other popular items include vitamins, calcium supplements, treatments for digestive problems and constipation, non-oral pain management products, gynecology drugs and eye drops.
However, Liu Pei, who heads the China Food and Drug Administration's 12320 hotline, said online sales of fake drugs and medical appliances are the most common subject of calls from the public.
She said buyers should be cautious and buy drugs only from government-authorized online outlets - the names can be checked by calling the helpline.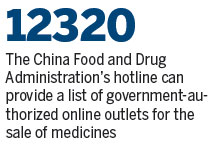 The administration is continuing its efforts to crack down on illicit online drug sellers, and publicizes details of those it catches.
Sun Zhongshi, an expert at the administration's Drug Evaluation Center, said he expected the online sector to continue growing rapidly because of its accessibility and the lower prices charged for some drugs.
Last year, the administration produced a draft regulation on the management of online drug sales for internal consideration that, if passed, will permit online sales of prescription drugs. Other drafts under consideration cover subjects such as the issuing of prescriptions online and medical insurance, Sun said.
The large number of patients prescribed drugs for chronic conditions such as hypertension and diabetes are potential long-term e-commerce customers.
"More value-added services such as pharmaceutical expertise are needed to facilitate online transactions of prescription drugs," Sun added.
shanjuan@chinadaily.com.cn