China and Britain will further cooperation in health disease prevention, mediine and general practice in the future, Li Bin, minister of the National Health and Family Planning Commission and Barbara Woodward, British Ambassador in China, agreed at a meeting in Beijing on May 28.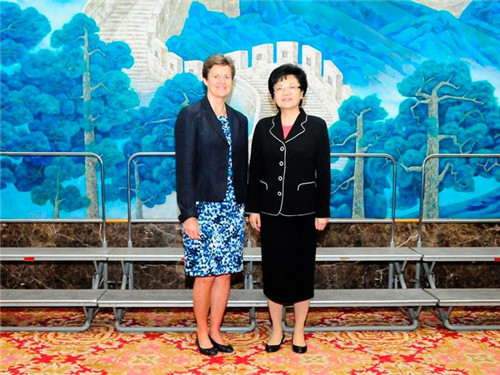 Li Bin (right) meets with Barbara Woodward
Li praised the improvements of Sino-British cooperation in health since the establishment of comprehensive strategic partnership in 2004. She also introduced China's healthcare reform and China's assistance in helping West African countries fighting against Ebola.
Barbara Woodward said that Britain treasures the relationship with China and looks forward to further cooperate in health.
The two sides discussed in Ebola prevention and control, chronic disease prevention and antibiotic resistance.
Officials from the NHFPC's department of international cooperation took part in the meeting.