Four e-bikes you should know about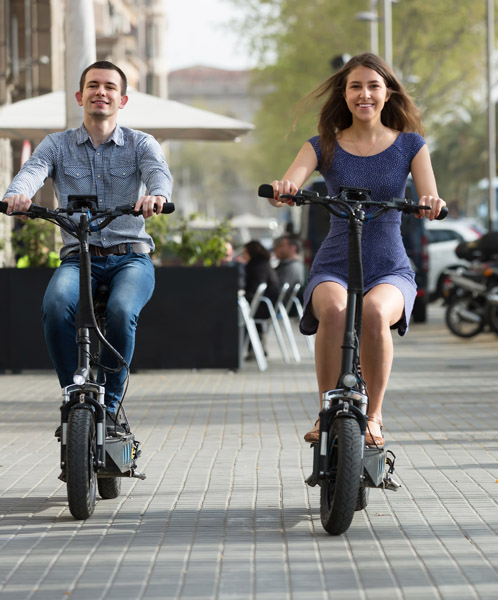 E-bikes are a good fit for various occasions, such as living in a hilly area, looking for a greener transportation alternative, commuting without getting sweaty, or simply riding with friends. [Photo/Agencies]
CHICAGO - In the same way that fitness watches are getting smarter by the second, bikes are getting a high-tech boost too. E-bikes are bicycles that feature a discreet, pedal-assist technology, which adds power only when you turn the pedals over and when you need it most.
And although it may seem confusing to mess with the simplicity of a bicycle, e-bikes are actually the perfect fit for a variety of circumstances, including living in a hilly area, looking for a greener transportation alternative, wanting to ride with more experienced friends, commuting without getting sweaty or just to make riding a bike a lot less intimidating and hell of a lot more fun.
"People want to experience the freedom of riding a bike," says James LaLonde, senior brand manager for Cannondale. "There's that nostalgic feeling that kicks in whenever you're on one, that feeling you got when you started riding as a kid. Plus, the e-bike offers more confidence. You can go further, and it's easier to go over hills than on a pedal bike." It's true. We've watched everyone from newbie riders to old pros get on these things and actually whoop with excitement - no exaggeration.
Now that e-bikes are becoming more accessible, you should know about these four models.
Schwinn's Monroe 250
Not interested in breaking the bank? Try Schwinn's Monroe 250. It's an urban rider with a single speed (but there are five levels of battery assist, so if pedaling gets tough, you can add an extra boost). It's great for zipping across town or around campus. In fact, students and young professionals were kept top of mind when designing the Monroe, says Joe Werwie, senior director of product development for Schwinn. It lasts up to 80 kilometers and requires a five-hour battery charge from zero. Plug it in before bed and you're golden in the morning.
Turbo Vado
Specialized's entry-level Turbo Vado 2.0 is another option that's like your favorite bike but with a high-tech brain. It comes equipped with a custom touch-screen smart computer. With it, you can control the assist mode (Turbo, Sport, and Eco) and connect via Bluetooth to the Specialized Mission Control app.
The app lets you map out your ride and then the motor will adjust to that specific distance so you never have to worry about the battery dying mid-route. It also offers navigation and diagnostics and stores your ride history and personal preferences - think of it like the digital dash in your car.
And another thing: You can scroll through the screens using the custom handlebar remote, meaning you never have to take your hands off the bars. It also happens to ramp up to 32 km per hour, and with the battery in economy mode, it'll last up to 148 km.
Cannondale Quick Neo
For those who want a does-it-all option, the Cannondale Quick Neo is your best bet. It was designed for people who lead active lifestyles but may not be "cyclists" per se. Maybe you want to keep up with your friends who are cyclists so you don't have FOMO - fear of missing out - looking at their bike adventures on Instagram. Or maybe you simply want to commute to work without getting all sweaty. Either way, this is your pick.
The Quick Neo has three assist modes - eco, normal, and high - and the battery lasts up to 112 km before it needs a four-hour recharge. It also has front suspension, so it'll handle bumps, potholes, and even dirt paths well, and the hydraulic disc brakes make it easier to stop if the weather gets wet.
Super Commuter+
If you live in a big city and owning a car is not an option, or just a major pain in the butt, then the Super Commuter+ could be for you. It's expensive, for sure. But less expensive than most cars, and when you tally up the amount of money you spend on gas, maintenance, insurance, parking or public transportation, an e-bike is a more economical choice for urban dwellers looking for a new way to get around.
The steep price tag also stems from the fact that it comes fully loaded with custom fenders to keep your pants dry, a rear rack so you can easily add a bag or basket for cargo, and a headlight and taillight - just like a car. With four assist modes, this baby can go up to 45 km per hour and as far as 192 km on a battery that takes just three to five hours to charge, so it's basically like the Ferrari of e-bikes.
Tribune News Service