Obesity 'epidemic' threatens to overwhelm nation's youth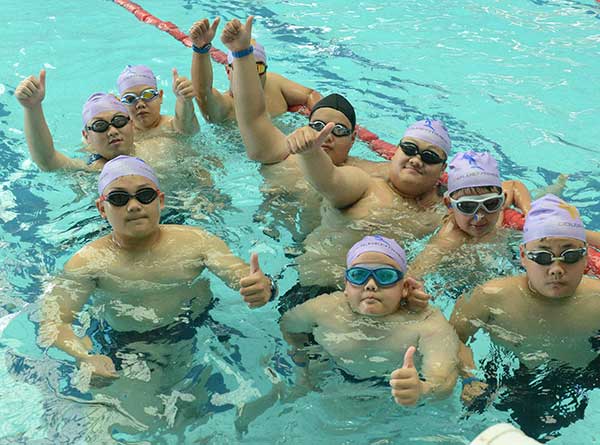 Children prepare for weight-loss swimming workout at a boot camp in Zhengzhou, Henan province.[Photo by Zhang Tao/For China Daily]
A growing number of young people are becoming overweight or even obese as a result of poor diets and sedentary lifestyles, as Wang Keju reports.
After four months of self-harm, followed by 12 weeks' therapy and almost a year quarreling with her parents, Hong Yuan arrived in Beijing in May.
She had traveled more than 1,760 kilometers from her home in Chengdu, capital of the southwestern province of Sichuan, to attend a boot camp for young people who are overweight.
At 1.63m tall, the 17-year-old used to weigh 82 kilograms, far heavier than most girls of the same age and height. "Every minute feels like hell when you are fat. I can't do a thing because the thought of losing weight haunts me all the time," said the second year high school student.
As she spoke, she was running on a treadmill in a gym. Looking pale, covered in sweat and out of breath, she rubbed her stomach constantly to ease her period pain.
Even though her trainer told her three times to take the day off, Hong turned a deaf ear and continued running for another 40 minutes.
"Despite the upcoming college entrance examination, I have left everything behind to lose weight here. I cannot afford to waste a whole day lying in bed," she said, referring to the gaokao, the grueling national college entrance exam. She drank a little hot water and rested for 15 minutes before starting to run again.
About 20 meters away, in another gym at the complex, 33 flabby children and teenagers were lifting barbells to the sound of pounding music as a trainer shouted through a microphone, urging them to carry on.