Chinese teenage singer appointed UNICEF Special Advocate for Education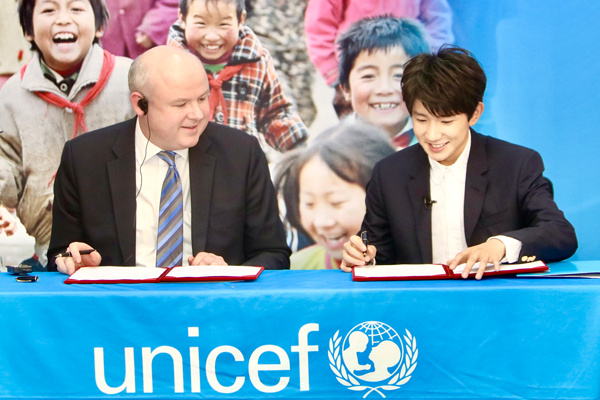 Wang Yuan, a member of popular Chinese boy-band TFBOYS and UNICEF China Acting Representative Dr. Douglas Noble sign the UNICEF Special Advocate for Education appointment letter at an event at UNICEF's Beijing office on June 28, 2017. [Photo/UNICEF]
Wang Yuan, a member of popular Chinese boy-band TFBOYS, has been appointed by the United Nations International Children's Emergency Fund (UNICEF) as a Special Advocate for Education.
The announcement was made on Wednesday, June 28, 2017 at UNICEF's Beijing office.
The 17-year-old promised that he will be active in promoting education and development of China's children, and do as much practical work as he can.
UNICEF works with the Chinese government to promote and support high-quality education for all of China's children. It works with partners to implement the Child Friendly School model in remote and disadvantaged areas of China.
Wang Yuan is scheduled to visit UNICEF-supported Child Friendly School projects in rural communities in China, support awareness raising programmes and appear at key public events.