A great escape changes one student's life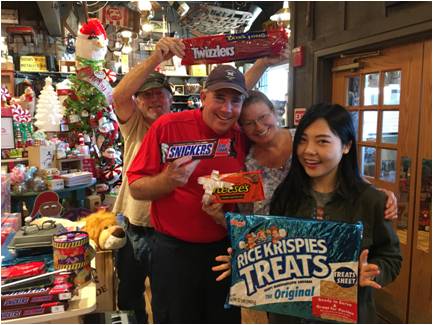 Li Tian mixes with local people in a store during Florida on her six-month trip to the United States and Cuba. [Photo provided to China Daily]
Wearing a loose, white tank top, skintight trousers and a pair of flip-flops, 26-year-old Li Tian presents the aura of a hippie, with long black hair casually flowing past her shoulders.
But when she starts talking, the good logic and serious attitude that came from two-and-a-half years of training as a student of life science starts showing.
Last July, she gave up her five-year doctorate study at Tsinghua University after careful consideration and negotiation with her parents and supervisor.
"There was too much dull, repetitive physical work in the lab. I didn't like it. Besides, I've been fully trained as a scholar at Tsinghua," she says.
"I love life science and academic work, but I want to experience something different. I know I want to do things related to education, so I quit."
She then started a six-month trip abroad, which could be described as anything but smooth.
As a well-trained student, Li used to make detailed plans for life and work.
"But after the trip, I think I can face anything unexpected and accept any kind of people, who are considered strange by many others," she says.
Last August, she packed a big bag with clothes and enough food and water for eight days in a US desert. Li arrived at the Burning Man Festival in Black Rock Desert in Nevada to experience "a utopian society built based on love and barter and formed by hippies". It was the first stop of her trip.
Temperatures can climb to more than 40 C at noon and drop below zero at night. Enormous sandstorms hit the campsites every day. But Li had a good time-every day, she experienced things that had never happened around her before.
"Every kind of strange thing occurred," she says. "There were naked people walking around, but it seemed very normal there."
None of the unusual behaviors harmed anyone, she points out.
She joined a camp and volunteered to help others repair bicycles. There, she made a lot of friends who helped her in the United States.
"The craziest thing that I did there was 'getting married'," she says with a laugh.
Her "husband" was a middle-aged man from San Francisco. The "marriage" was effective only during the festival.
Eight days later, three other Chinese people who came to the festival drove Li to San Francisco. Before they parted, they went downtown, parked and went sightseeing. When they came back, the rear window of the rented car was broken and every bit of luggage was gone, including Li's passport, credit cards, cellphone and clothes.
"Originally, I'd planned to travel around the world, first to the US, and then to Britain, where I had applied for an education program. But all of a sudden, I had to change all my plan," she says.
She needed to stay in San Francisco for one month to apply for the permit to travel around the US.
"I wrote to the best friend I made at the Burning Man Festival, telling her that I lost my phone in case she would try to contact me," she recalls.
"She immediately told my situation to all the members of the volunteer camp, and they all offered to help me, hosting me and giving me clothes. They even raised $500 for my trip. I was so moved."
Li also decided not to make so many plans and to instead follow her heart. But she had a principle: to not merely see the most famous tourist attractions but also to experience local people's lives. So she spent at least three weeks in each city, sleeping on locals' couches or booking rooms on Airbnb, the popular online marketplace and hospitality service.
From San Francisco, she went on to Santa Barbara, Los Angeles, Seattle, Chicago, Boston and, finally, New York. At airports, she was always questioned by security about her identity because she had just a permit but no passport or visa.
"At first, I was very nervous. But gradually, I could argue with them easily," she says.
After more than four months of traveling, she went to Florida and worked on a green farm in Tampa in exchange for room and board.
All the animals on the farm had names, she says. Humans were just part of the whole ecosystem and lived in a room with animals: rabbits, chicken, sheep, pigs and even snakes.
"When we fed them, we called their names and talked to them just like family members," she says.
She left the US and went to Cuba, where she stayed for over one month. After six months abroad, she returned to China via Russia, where she spent three days exploring.
Her experiences were invaluable, she says.
"Now, I can deal with any kind of accident with a clear head. I've learned not to judge other people's lives. The travel has strengthened my determination to do what I really want to do," she says.
She now lives in Beijing on her own savings from scholarships and part-time jobs. Li is preparing to apply for overseas programs in cognitive psychology.