TCM's popularity growing abroad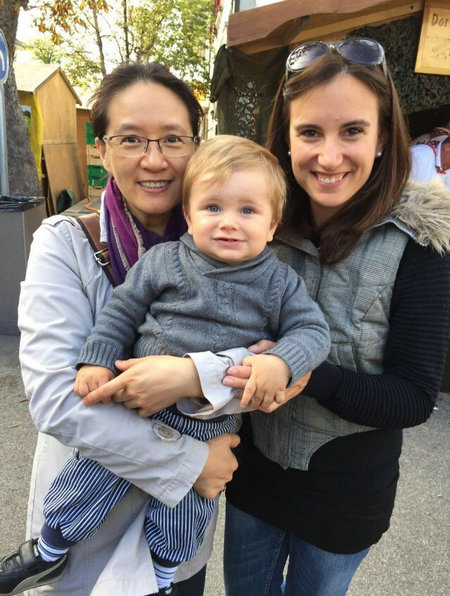 Li Ying, a doctor from Nanjing University of Chinese Medicine, poses with her patient and her child in Switzerland. She treated the previously infertile woman with acupuncture for a year. [Photo provided to China Daily]
Nanjing University of Chinese Medicine is cooperating with foreign institutions and training students to share traditional Chinese medicine-one of the world's most ancient therapies-with the world.
According to university president Hu Gang, more than 26,000 foreign students from about 90 countries and regions have majored and trained in traditional Chinese medicine since 1957.
"We have established traditional Chinese medicine centers in countries such as Australia, Switzerland and France," says Hu. "It has gradually changed local people's opinion about TCM and more people are willing to accept it."
Huang Guicheng, vice-president of the university, says that more than 10 countries have legally recognized TCM and more foreigners now use TCM.
"We have cooperated with a German medical center for 18 years," he says.
"Local people visit the center and seek TCM treatments."
He says TCM also can treat post-traumatic stress, which may lead to mental illness and insomnia.
A local doctor, who received TCM training at the Nanjing university in 2008, gave the refugee children in Munich the medicine that they later called "magical tea".
"Many foreign hospitals even use acupuncture in surgeries," he says.
Huang says that TCM is popular due to its effectiveness and minimal side effects.
"We have received invitations from many foreign institutions to co-found TCM research centers in their countries," says Huang.