Young foreigners learning Chinese to take opportunities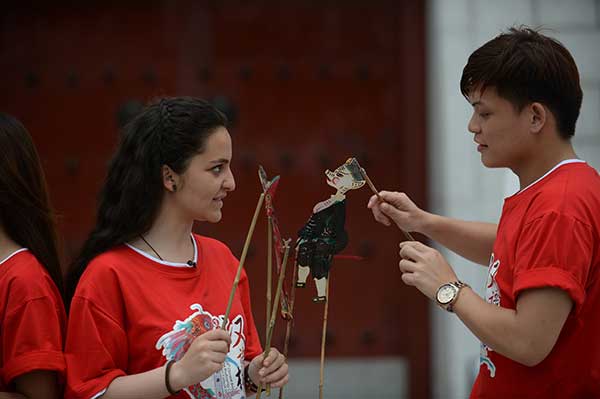 International students rehearse shadow-puppet play during a Chinese-language competition held in 2014 in Changsha.[Photo/VCG]
WARSAW - The Chinese language is a bridge for communication, helping more young Europeans who love China and Chinese culture fulfill their "Chinese dream". During the 2017 Chinese Bridge, an international Chinese language competition for students held in Britain in April, Gabriel Mayoral-Galindo, a participant, made a fluent speech in Chinese about China.
"We are very envious of China's infrastructure and development speed. Every time I go to Shanghai, there is a new skyscraper, which is incredible and proves the speed of development in China," he says.
Liu Xiaoming, the Chinese ambassador to Britain, said during the competition the fact that "Chinese fever" has continued to heat up in the British Isles is rooted in the richness of the Chinese civilization and the incredible changes in contemporary China. It is also a result of the steady development of Sino-British relations.
As far as young foreigners who study Chinese are concerned, their goals are not limited to mastering Chinese and understanding the Chinese culture, but also to use the language as a tool to take advantage of the Belt and Road cooperation, establish a bridge for communication between China and the outside world, and work together for mutual benefits.
Izabela from Poland is currently pursuing advanced Chinese at South China's Guangdong University of Foreign Studies. She is interested in the cooperation between China and Poland.
"The communication between Poland and China is increasing. I hope that I can master the Chinese language well and have enough abilities to promote friendly business between the two countries. I also hope that more Chinese visitors will travel to Poland."
Giuseppe from Italy works at a community supermarket in London as a cashier. Having studied Chinese at a Confucius Institute, he is able to communicate with the Chinese customers there.
The Chinese people he meets are very friendly, he says, and he hopes to get an opportunity to go to China to live, and to witness the rapid development of the country.
Chen Tongdu, representative of Hanban Europe, says many Chinese language lovers decide to learn the language due to the prospect of opportunities in China, followed by a love of Chinese culture. Many people have already mastered Chinese and gone to China to develop their own businesses.
"In recent years, following further implementation of the Belt and Road Initiative, economic and trade cooperation has also led to a more frequent exchange in the fields of education and culture between China and Poland," says He Juan, head of the education department at the Chinese embassy in Poland.
He says a large number of Polish students have gone to China to study.
"The number of Polish students who strive for the possibility to study abroad by applying for various scholarships in China has exceeded 400 this year."
Xinhua