Best international teachers recognized in Beijing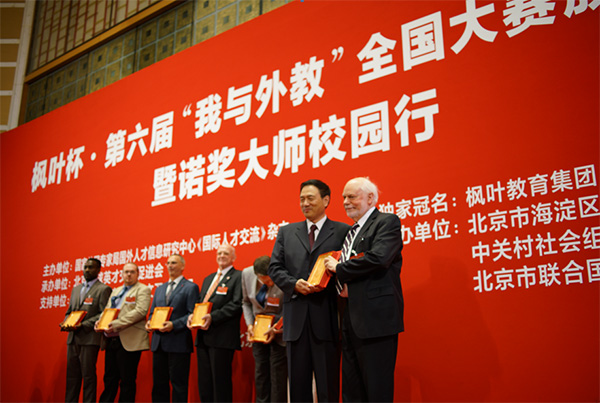 Lu Ming, deputy director of the State Administration of Foreign Experts Affairs, presents an award to Nobel Prize-winning chemist, James Fraser Stoddart. [Photo by Li Wenrui/chinadaily.com.cn]
Nobel Prize winner James Fraser Stoddart was among the 10 best 2016 international educators honored at an awards ceremony in Beijing on May 13.
With a wide range of academic backgrounds, these teachers were recognized for their achievement and devotion to education in China. James Fraser Stoddart, who won a Nobel Prize in chemistry and is an expert on the national 1000 Talent Plan, delivered a keynote speech after receiving his award.
Lu Ming, deputy director of the State Administration of Foreign Experts Affairs, said: "The development of China reflects the advancement of the world. In the future, China will attract more foreign experts to achieve their dreams and further promote friendly exchanges with other countries."
Sponsored by the State Administration of Foreign Experts Affairs, the event invited over 350 guests, including officials from bureaus of foreign expert affairs and education, award-winning organizations and individuals, as well as international teacher representatives.