Belt and Road Initiative offers more opportunities for students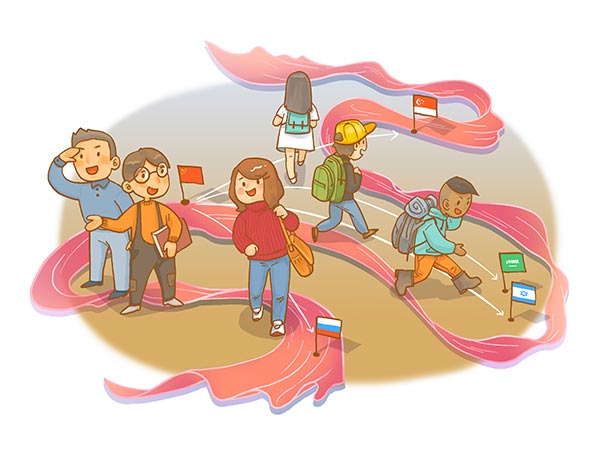 [Liang Luwen/For China Daily]
When many Chinese college graduates prepared to apply to major Western colleges this year, Zhejiang University senior Xu Mengmeng opted to take a different approach.
Xu, who originally comes from Henan province, hopes to enroll in the King Abdullah University of Science & Technology, a Saudi Arabian institution in one of the Belt and Road Initiative countries.
The 22-year-old optoelectronic science-and-technology major is a visiting student completing his graduation project on underwater stereo-camera systems at the KAUST.
He receives a $1,000 monthly stipend, free accommodation in a small, seaside villa and medical insurance from the university.
On weekdays, Xu works on his research project, measuring the size of sharks in the Red Sea. The research resources of the school's marine science department help him work faster. He has also teamed up with a group of students to classify underwater species.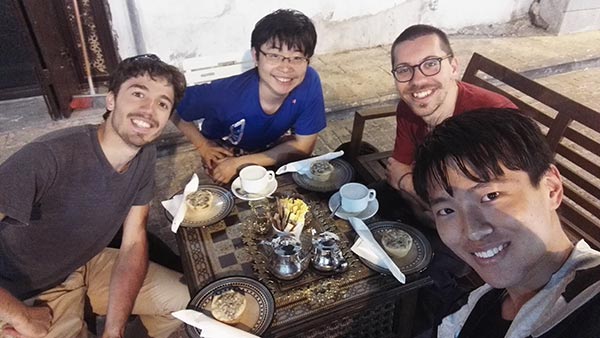 Xu Mengmeng (right) socializes with international students, while studying at the King Abdullah University of Science & Technology in Jeddah, Saudi Arabia. [Photo provided to China Daily]
He enjoys going to the beach with friends during his spare time. He wears a kaffiyeh, an Arab headdress, and robes as he tours the city to experience the local culture.
Despite the hot weather and language barrier, Xu is eager to pursue graduate studies in computational photography at the KAUST.
In addition to the high-quality research equipment, he also appreciates the chance to attend regular lectures by distinguished guest speakers.
Xu's decision to apply at an Arab university is by no means unconventional.
Since the Belt and Road Initiative was proposed in 2013, China's Ministry of Education has inked more than 60 deals with participating countries.
Chinese students have been encouraged to join exchange programs, participate in social events and attend universities in these countries.
This year's China International Education Exhibition Tour was held in Beijing, Shanghai, Guangzhou and four other cities between March 25 and April 9.
It highlighted 23 schools from Belt and Road countries like Singapore and Russia among the nearly 250 educational institutions that participated. United Arab Emirates had a team from seven institutions attending.