Taking technology to market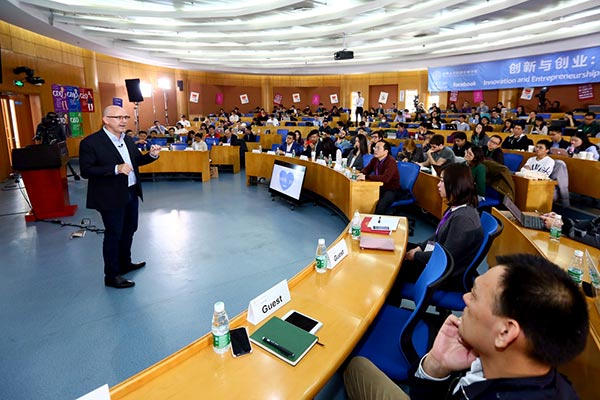 Dan Neary, Facebook's Asia-Pacific vice-president, gives a lecture at Tsinghua School of Economics and Management. [Photo provided to China Daily]
Zhang Xiao and her fellow students at Tsinghua University's School of Aerospace Engineering have an idea that could save lives.
The second-year graduate student and her colleagues developed a technology to painlessly detect diseases such as early-stage liver cancer.
The technology has won several patents, but the students had no clue how to get it on the market.
"It turned out that a startup company is the only way to protect our patents and make the best use of it. I also want to learn how to protect our intellectual property as a startup," says Zhang, a biomechanics major.
Now she is taking an entrepreneurship course at Tsinghua's Beijing campus.
The two-credit elective course-Innovation and Entrepreneurship: Silicon Valley Insight-was jointly launched by Tsinghua's School of Economics and Management, and Facebook.
The 200 attendees from many fields of expertise get insights into Silicon Valley's latest innovations and entrepreneurial practices. Moreover, they must come up with their own business ideas and form a team of five to develop a business plan.
The five members play the role of chief executive officer, chief marketing officer, chief design officer, chief brand officer and chief technology officer. Each team will make their final presentations and give project demos at the end of the course.
Zhang has never studied business before.
"My project in this course is actually from my lab. We basically solved a technical problem and now we need to commercialize it," she says. "Through this course, I am expecting to figure out how we can commercialize scientific achievements and the whole procedure."
The Chinese government is keen to nurture entrepreneurship and innovation, and the Ministry of Education has instructed all colleges and universities to set up compulsory or elective innovation and entrepreneurship courses.
Tsinghua University is a pioneer in this field. In 2013, it launched x-Lab, a university-based platform designed to foster student innovation and entrepreneurship. X-Lab operates under the auspices of the School of Economics and Management and links 14 schools and departments across the university.
It aims to help students master the basics of innovation and business startups through courses, workshops and competitions. It also introduces student entrepreneurs to investors, mentors and team members.