Scientists unlock TCM drug's role in weight loss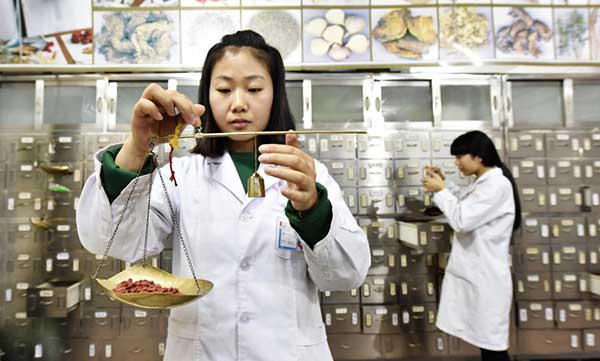 [Photo/Xinhua]
Chinese scientists have identified the chemical mechanism of celastrol, which they call one of the most potent natural weight-loss agents, marking another step toward its possible future development into a major weight-loss drug.
The compound is extracted from the roots of thunder god vine, a toxic herb used in traditional Chinese medicine for centuries to cure arthritis and autoimmune diseases. In TCM, however, it is used in tiny amounts, mainly to treat severe diseases, because of its potentially dangerous side effects.
A research team led by Zhang Xiaokun, president of Xiamen University's Institute for Biomedical Research, found celastrol can change a cell's metabolism by eliminating inflamed mitochondria, leading to weight loss. Mitochondria are the cell's "energy factory".
"This is a huge step in turning celastrol into a feasible and safe medicine for humans," he said. "Celastrol could be a powerful tool to treat patients suffering from obesity and associated complications, such as Type 2 diabetes, heart disease and fatty liver."
Celastrol has long been a hot subject in biomedicine. In 2007, Cell, a prestigious science journal, listed celastrol with the discovery of antimalarial drug artemisinin - which won chemist Tu Youyou the Nobel Prize in 2015 - among five natural herbal compounds with the most potential for modern medicine.