Coffee with ... Pascal de Sarthe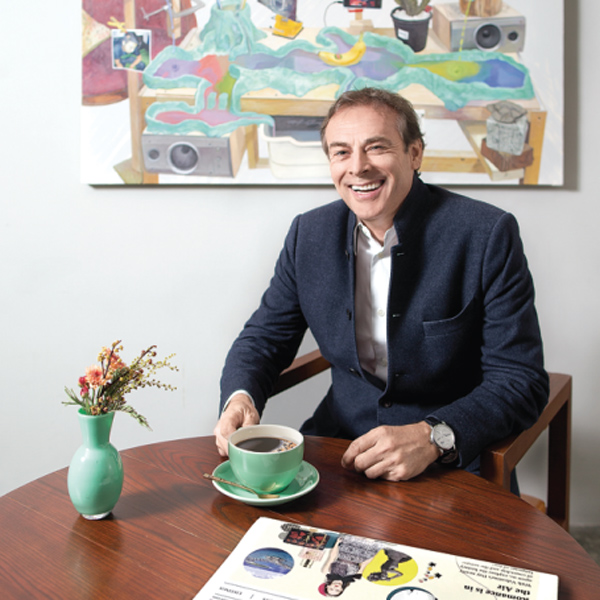 Pascal de Sarthe, founder and owner of de Sarthe Gallery in Hong Kong and in Beijing. [Photo provided to China Daily]
French-born Pascal de Sarthe was self-taught and rose among the art dealer ranks in the 1980s to become one of the most recognized gallerists of the 21st century. He made Hong Kong his base in 2010 and today, with one gallery here and another in Beijing, he's clearly lost none of his passion for art
What made you decide to be based in Asia?
I have been coming to Asia since 1981, doing business first in Japan and Korea, then in the early '90s in Taiwan, China and Southeast Asia - Asia accounted for half of my business and I quickly started spending two weeks of every month in the region. I was approached by new collectors who were interested in both Western and Eastern art, who appreciated my long experience in dealing with artists of the Chinese diaspora such as Zao Wou-ki and Chu Teh-chun. In 2010, staying in Asia and opening a gallery in Hong Kong seemed like the natural thing to do.
Why Hong Kong?
Even though there was nothing to indicate that Hong Kong would become the center of the Asian art market, there was the geographical location, the tax advantages and the start of the art auctions - everything just came together.
Art Basel came to Hong Kong shortly after you did ...
There was already Art HK, but Art Basel recognized that the art market in Asia was becoming increasingly important and could possibly overtake the art market in America. For Art Basel, it made sense to take over Art HK and establish themselves here with a solid foundation.
Is Hong Kong's art market one of true art lovers or of speculators?
Things have changed a lot in the past seven years. At first, the speculators were operating in a market that was tailor-made for them - Hong Kong was a financial hub, with capital flooding in from all over the world, and the art market took advantage of this. Then came a generation of collectors who were interested in art. Collecting is like catching a bug; it's an addiction.
A person can initially take an interest in art in order to speculate, but in the long run if he doesn't develop a passion for it, then it's not much fun.
Does the gallery owner share the passion of the collector?
You can't sell paintings if you don't have a passion for art. Unfortunately, today more and more people are opening galleries as if they were luxury shops. They'll sell artists like fashion trends, which means the life cycle of these artists is limited. When you're representing an artist, he has to come first. You can't turn him into a commodity and then abandon him.
It's easy with handbags or clothes, but an artist is a human being. My son has a close relationship with his artists in Beijing, with a dynamic I haven't seen in a very long time. You can't put a price on that. That's how you create genuine art galleries and assume a genuine position in the art market.
What will you be exhibiting at Art Basel this year?
We'll be showing only postwar Asian artists and new-generation Beijing artists. At the same time, we'll be opening our new gallery in Wong Chuk Hang on the south side of Hong Kong Island.
You're leaving Central?
After six years in Central, I didn't want to stay there any longer. The area is an aberration for galleries - we don't have enough space, the ceilings aren't high enough and the rents per square meter are the most expensive in the world.
I knew Wong Chuk Hang a bit - I'd been there to visit some galleries - but I hadn't realized how important the place was. Today, with its 30 or so galleries, the artists, designers and architects who live there, the new MTR station and with rents one-fifth what they are in Central, this neighborhood is in the process of becoming the art district that didn't exist before in Hong Kong. I would readily compare it to Chelsea in New York. We've taken a 10,000sqft space with the kinds of volumes necessary for real gallery work, as if we were in New York.
What do you think of shows like the Affordable Art Fair in Hong Kong?
I think it's a very good thing, because contemporary art shouldn't be expensive. The market is manipulated in such a way that works of art are worth this or that amount, with no basis in reality.
With a few exceptions, a young artist who all of a sudden is priced at US$300,000 will be forgotten a few years later. I think it's very good for people to be able to buy works of art for a few hundred or a few thousand. It's fantastic - and it's how lots of collectors get started.
Any advice for future collectors?
Don't buy anything just yet - educate yourself first. It's very important to establish a dialogue with a dealer to know what you're going to like or not like about an artist, and to understand the market. Obviously, when you know nothing about a market, you tend to follow the trends. Unfortunately, too many collectors buy with their ears, not their eyes.
(China Daily 04/15/2017 page18)