After college, are big cities better than small ones?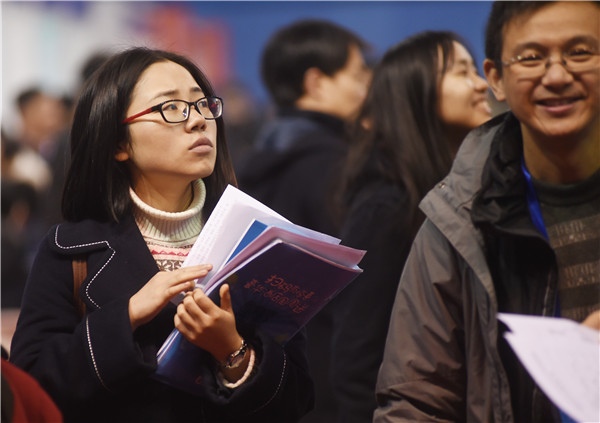 A young woman attends a job fair in Beijing. [Photo/VCG]
Another wave of fresh graduates will finish their college life and step into society as a new year is unfolding.
According to the Ministry of Education, the number of fresh graduates from colleges and universities in 2017 will climb to 7.95 million, an increase of 300,000 compared with 2016. With the growing number of graduates comes fierce competition in the job market, and where to start a career has always been a question for young job hunters.
In December 2016, the Center for China and Globalization and MyCOS, a company specializing in higher education management data analytics, published a ranking of graduates' preferred cities based on nonmaterial attractiveness.
Statistics show that the most attractive cities for graduates to begin careers are Beijing, Shenzhen and Shanghai. Graduates are willing to give up as much as 1,000 yuan per month in material rewards in order to enjoy the nonmaterial rewards in these big cities, including social environment, urban facilities, infrastructure, an international atmosphere and personal growth opportunities.
However, there are also statistics showing the number of graduates hoping to work in first-tier cities is going down. So, should fresh graduates start their careers in big cities?
YES
Big cities are more suitable for fresh graduates who aim high.
1. There are more career opportunities in big cities. Large enterprises and thriving industries are usually located in big cities, and they provide good opportunities and better salaries. For fresh graduates, a good starting point where they can show their capabilities may lead to a brilliant future. It's not easy for some majors to find a good job in small cities.
2. Big cities provide a more convenient life for young people. Better transportation and infrastructure facilities, more shopping malls and entertainment venues-all these add to the urban flavor. For those who want to set up their own homes after graduation, big cities are more attractive as they have better medical, and educational facilities and living conditions.
3. Big cities treat young people in a fair way. Even without strong connections or background, as long as you are smart and hardworking, you can lead a good life in big cities. Big cities usually give more weight to personal efforts than guanxi compared to small cities, and are more suitable for ambitious fresh graduates.