Best bet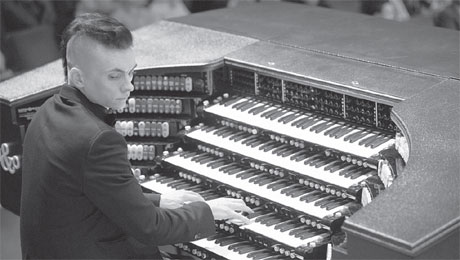 Cameron Carpenter International Touring Organ Concert
Date: Oct 28 - 8 pm
Venue: Shenzhen Concert Hall
Price: 180-880 yuan
Taylor Cameron Carpenter is an American organist. Carpenter has been both criticized by some and praised by others for his unorthodox interpretations of the standard organ repertoire. Carpenter is noted for his advocacy of the digital organ, particularly development of a touring electronic organ, citing factors such as the obstacles the pipe organ imposes on the ability of a traveling performer to enjoy an ongoing relationship with a single instrument in the same manner as many other instrumentalists. Despite this, he frequently performs on pipe organs, often garnering major exposure for the instrument.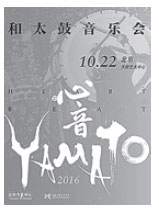 Yamato Heartbeat Concert Beijing
Date: Oct 22 - 7:30 pm
Venue: Beijing Tianqiao Performing Arts Center
Price: 80-660 yuan
Yamato was founded in Japan's Nara Prefecture in 1993. The troupe has given over 2,500 performances in 51 countries and regions. Every year, Yamato tours the world for 6 to 10 months, creating and presenting original Yamato compositions and stages. As a result of this relentless tour schedule, pursued over more than 10 years, audiences around the world await our arrival every year in growing numbers, sustaining and encouraging our efforts more than words can express.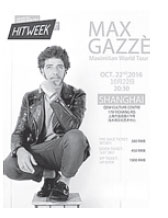 Max Gazze Maximilian World Tour
Date: Oct 22 - 8:30 pm
Venue: Shanghai Qianshuiwan Culture Art Centre
Price: 380-1,000 yuan
Max Gazze is an Italian singer-songwriter and musician. He is known for his high-pitched voice. Max Gazze was born in Rome, his father was from the province of Ragusa. He emigrated to Belgium in 1982 where he spent his childhood, his father being a diplomat at the embassy of Italy, and he studied at the European School. At the age of 6 he started learning piano, and at 14 dedicated himself to bass guitar and begins to perform with groups in Brussels' clubs. From 1985 to 1990 he played with a number of Jazz fusion, funk and Rock bands around Europe.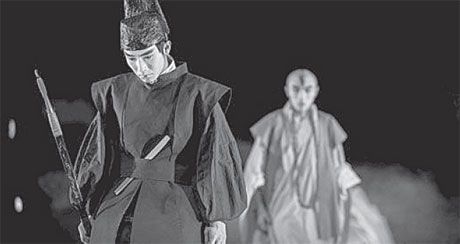 The Tea Spell
Date: Oct 28 - 7:30 pm
Venue: Tianqiao Theatre
Price: 50-880 yuan
Plot of The Tea Spell originates from a group of antiques unearthed at Famen Temple: exquisite tea sets used by Emperor Xizong of Tang Dynasty. The show uses tea as a vehicle and illustrates the encounters of a stunningly beautiful woman (played by male dancer) with a farmer, an officer and a monk respectively. The three male characters imply people with three different kinds of psychological orientations. After meeting with the stunning beauty, they are either being allured, or pretending nothing has happened, or struggling, or getting carried away. Through multisensory experience, the audiences glimpse into the subtle wisdom of the universe in a detached way.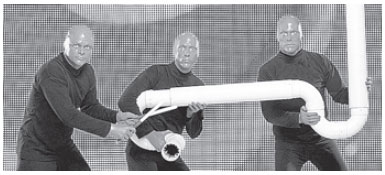 Blue Man Group World Tour
Date: Oct 27-Nov 13 - 7:30 pm
Venue: Beijing Tianqiao Performing Arts Center
Price: 100-2,222 yuan
Blue Man Productions is a now global entertainment company best known for the award-winning Blue Man Group show, performed in 15 countries and seen by more than 35 million people worldwide since 1991. A dynamic combination of music, comedy and technology, the show appeals to a broad range of age groups and cultural backgrounds. It is continually refreshed with new music, new stories, new instruments and new technology. This creative collective is part of the pop culture zeitgeist. Beyond the stage show, they have toured the globe with the "Megastar World Tour" rock concert parody, produced 5 albums, and contributed to numerous film scores.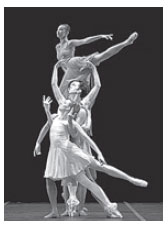 Ballet Austin Company Gala 2016
Date: Oct 24 - 8 pm
Venue: Guangzhou Opera House
Price: 80-680 yuan
Ballet Austin welcomes audiences near and far to participate in its "classically innovative" vision for the democratization of dance. With a rich history spanning five decades, acclaimed productions, a commitment to creating access to programs, and operating a combined training facility, Ballet Austin is the 11th largest classical ballet company in the country. From its home at the Butler Dance Education Center in downtown Austin, Ballet Austin and Artistic Director Stephen Mills actively engage the community, dancers, and audiences alike. The New York Times proclaims Ballet Austin "a company with big ambitions" originating work that is "absorbing".