Chinese doctors conduct free surgeries for cataract patients in Sudan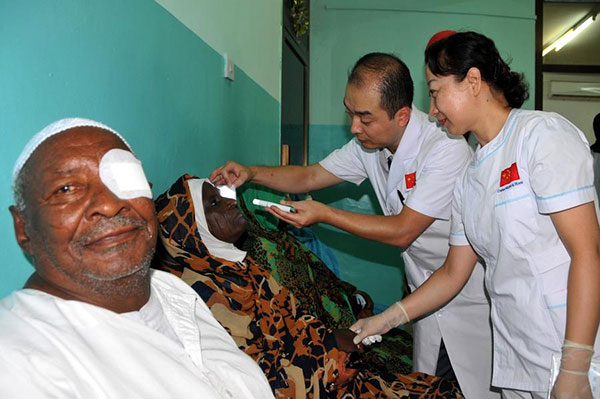 [Photo/Xinhua]
A team of Chinese ophthalmologists have started to conduct free cataract surgeries for Sudanese patients in Khartoum as part of a medical cooperation program between the two countries.
Sudan's Federal Ministry of Health organized a ceremony at a local eye hospital on Monday to inaugurate the therapeutic Light Program.
"This therapeutic program indicates the level of the distinguished ties between Sudan and China and their cooperation in what brings benefit for the two peoples," said Awad Ahmed Al-Jaz, Sudanese official in charge of maintaining Sino-Sudanese relations, when addressing the ceremony.
"Sudan and China are tending to make their relationship comprehensive and strategic in all fields. We hope this practical application would push the bilateral ties to a strategic level with mutual benefits," he said.
According to Sudan's Federal Minister of Health Bahar Idriss Abu Garada, the Light Program aims to conduct 1,000 free eye surgeries at an average of 30 operations a day.
"We launch the Light Program which tends to conduct 1,000 eye surgeries by specialized Chinese ophthalmologists, using the most modern medical devices, as part of the National Program for Combating Blindness," the minister said.
In his address at the ceremony, Chinese Ambassador to Khartoum Li Lianhe reiterated China's concern with enhancing ties with Sudan in all fields and reviewed the health cooperation between the two countries starting about 50 years ago.