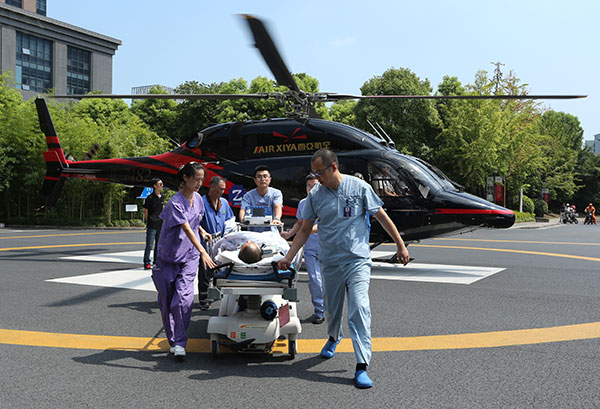 Emergency medical workers transfer a heart attack patient from a helicopter to a hospital in Hangzhou, Zhejiang province, on Sunday. Currently 11 helicopters provide transfer services for a new hospital network.[Photo provided to China Daily]
National alliance of hospitals provides wide coverage when lives are at stake
The first national alliance of hospitals providing air ambulance services took off on Sunday, covering vast regions in eight provinces with swift evacuations for people from remote rural areas to clogged city streets.
Air ambulances have become a key supplement in medical emergencies to save lives despite congestion or remote location, leading to the growth of such services in China, said Wang Jian'an, head of the Second Affiliated Hospital of Zhejiang University School of Medicine.
On Sunday morning, a helicopter took off from Hangzhou, Zhejiang province, and picked up a 58-year-old patient in neighboring Huzhou who needed an emergency operation. It brought the patient to a landing pad at the hospital in Hangzhou.
The round trip was brief: Within two hours, including flight time, the patient, surnamed Ding - who had suffered a heart attack - was out of surgery.
"The helicopter was so quick and convenient that it made me feel like this hospital was located in front of my house," he said.
Without the helicopter, it would likely take an ambulance more than two hours just for the return trip, instead of 30 minutes by air.