35.8% of WeChat users want to shut it off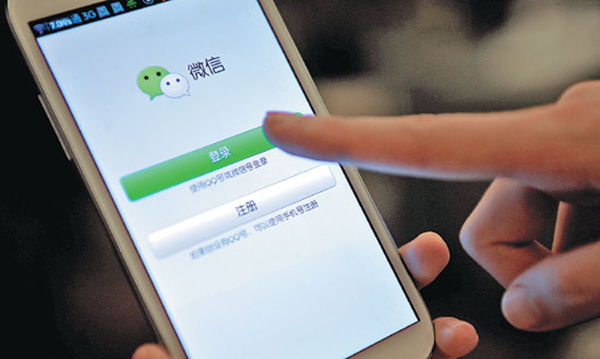 A user logs on to the WeChat service on a smartphone. [Photo/Xinhua]
In a world saturated with social media, our lives have lost certain dimensions and become immersed in cyberspace. Face-to-face interactions have lessened, and sending, replying and waiting for messages on WeChat, one of China's most popular social media platform, has become an indispensable part of life for many.
China Youth Daily conducted a survey of 2,000 people regarding their use of WeChat. Surprisingly, 35.8% of respondents say they want to turn their WeChat updates off completely. Of the respondents, 19.7% say they probably will in the near future, 13.8% have done so in the past and 2.4% have already shut WeChat off from their lives. The majority, 64.2% of respondents, say they will not delete WeChat from their mobile phones.
Deng Chunyang, a first-grade teacher at Donggaodi Third Primary School in the suburbs of Beijing, says she uses WeChat to communicate with the parents of her students.
"I have them in a WeChat group and whenever I need to notify them of something, I send them a message in the group," said Deng.
"The first thing I do when I wake up in the morning and after I arrive home from work is to check my WeChat to see if the parents have left me any messages."
Checking one's WeChat updates first thing in the morning may seem excessive, but Deng is not alone. A majority of respondents (57.1%) say they check their WeChat the moment they open their eyes. 24.2% and 11.9% of users say they rarely, or sometimes go on WeChat in the morning, and only 6.8% say they have never had the habit of doing so.
Many parents have added Deng as their friend on WeChat for better interaction and communication.
"I owe much to the blocking function on WeChat. I am just like anyone else; I wear slippers and dine at street vendors. But for some parents, these (things I do) don't fit with the image of a teacher. So sometimes, I block some of them from seeing my posts," Deng added.
Even with the inconveniences it may bring, Deng says she will not cut WeChat completely out of her life.
"I want to see what's happening in everyone's lives, give a few likes and leave comments. I can also get a better understanding of my students from their parents' WeChat updates."
Internet company employee Zhang Xue (pseudonym) has turned WeChat off for over a month.
"I haven't gone on it for a month or so and I feel like I've not missed much. I have more peace. I don't have to pay attention to who's in love with who, who is calling for everyone to vote for them, and who's showing off their kids again."
Zhang says human beings are surprisingly adaptable.
"Before WeChat, we were also fine."
The survey also revealed the types of threads most liked and hated on WeChat. Those with humor and amazing photographs were reposted the most, at 21.6% and 21.2%, respectively. Threads that annoyed users the most are advertisements (58.1%), flaunting posts (44.9%) and those from purchasing agencies (38.9%).
To Zhang, turning WeChat updates off will not estrange anyone from their loved ones, and keeping it on will not shorten the distance between anyone either.
"We don't need to know what others are doing in the first place. I removed quite a few from my friends list whom I don't contact anymore, and kept only about 100 friends. I use the time that I've saved from staying away from WeChat to read books, including several masterpieces that I've never had the time to read," said Zhang.
Users with less than 100 contacts on their friends list accounted for 40.8%. Those with 100 to 200 stood at 35%, 200 to 300 at 16.1%, 300 to 400 at 5.56%, 400 to 500 at 1.4% and those with more than 500, 1.3%.
Kuang Wenbo, professor of mass media at China Renmin University, says caretakers need to exercise more caution when children use WeChat, as information uploaded on the platform have not been filtered and children often cannot judge for themselves yet. In severe cases, Kuang recommends shutting WeChat updates once and for all.
"Only a minority of people can proactively shut off their WeChat updates. Whether it's on or off, everyone has the right to choose the lifestyles and modes of social interaction. It is crucial to make the most suitable choice," Kuang added.
Related:
Mobile reading, a trend among Chinese internet users
Tencent signs deal with Palace Museum to promote traditional culture