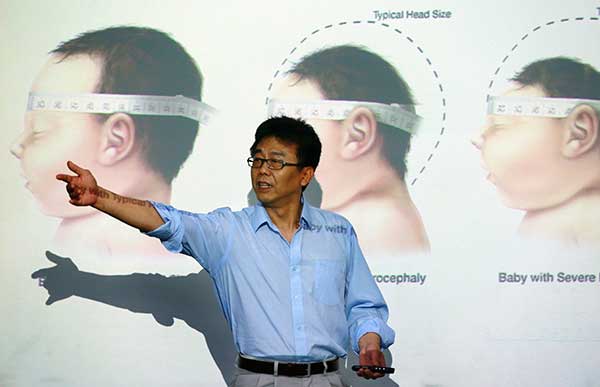 Researcher Xu Zhiheng explains findings of a Chinese team studying the Zika virus in Beijing on Wednesday.[Photo by Zou Hong/China Daily]
Research shows a link between the virus, poor brain development
A research finding by Chinese scientists that was published in a leading academic journal identified a direct link between the Zika virus and microcephaly - a disorder in which the head is small due to a defect in brain development.
The research was a collaboration between Xu Zhiheng, principal investigator at the Institute of Genetics and Developmental Biology under the Chinese Academy of Sciences, and Qin Chengfeng, a professor of virology at the Institute of Microbiology and Epidemiology under the Academy of Military Medical Sciences.
The authors published their findings on Wednesday in Cell Stem Cell, a monthly journal that focuses on important findings in stem cell research. They showed that mouse fetuses injected with the Asian Zika virus that were carried to term displayed characteristic features of microcephaly.
As expected, the virus infected neural progenitor cells, and the brains revealed genetic signs of viral entry, altered immune response and cell death. The authors said that's direct evidence that Zika infection causes microcephaly in a mammal.
The Zika virus has broken out in South America and been spreading around the world since 2015 - including China.
"Zika is not a newly discovered virus, but its breakout in 2015 attracted more attention than ever before because more than 6,000 babies born in Brazil from March 2015 to March 2016 were diagnosed with microcephaly. Most of these babies' mothers were infected by the Zika virus," Qin said.
Until now, no direct connection between Zika and microcephaly has been found. According to Xu, mutations of about 30 human genes could cause microcephaly.