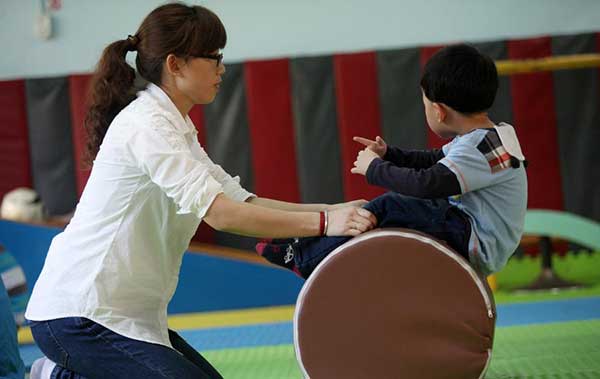 About one percent of the Chinese population has been diagnosed with autism.[Photo/Xinhua]
After a lively ballot, the "star" of class one was awarded to the chubby, bashful boy Ji Yuanqing.
When the photographer raised the camera, dozens of pupils rushed to pose with the laureate. So many smiling faces pressed against each other that it could be hard to tell that Ji is not like all his classmates.
The 8-year-old boy is the first autistic student to attend Dongtieying No. 2 Primary School in Beijing, and one of the few children living with the disability to study at a mainstream Chinese school.
While Saturday marks World Autism Awareness Day, many Chinese parents are still struggling to find the best learning environment for their autistic children.
Inclusive education, which encourages regular schools to enroll children with disabilities, may be the answer, but a lack of specialist teachers, facilities and awareness among parents means Ji is one of the lucky few.
"A BIGGER WORLD"
Like most Chinese parents, Ji Jingxin and Zhang Lijuan are determined that their only son receives the best education.
After Ji was diagnosed with autism at two, Zhang quit her job to teach the boy at home. Like other autistic children, the boy often struggles with social and oral skills and needs extra time and patience from parents. Zhang said that they will not have a second child as their attentions to Ji "can not be diluted."
Ji senior bares the sole financial responsibility of earning money to send his son to all manner of costly "rehabilitation centers." He said that he became quickly disillusioned with these "centers" as many facilities were driven by profits, and taught very little.
The idea of enrolling Ji into a regular school struck the couple at a singing event about two years ago. To their surprise, Ji began emulating the other children's movement of pressing the headset to the mouth, though not knowing it was meant to amplify the voice.
"At that moment, we realized he knew how to imitate, and that if he was given the opportunity to attend a mainstream school he could learn from healthy children. We were sure that if he attended a special school it would have the adverse affect," Ji senior said.
"He's very close to his mother and has enjoyed his time at home, but we can't be with him forever. We hope he can learn to interact with other children and eventually integrate into society. He deserves a bigger world outside the family."