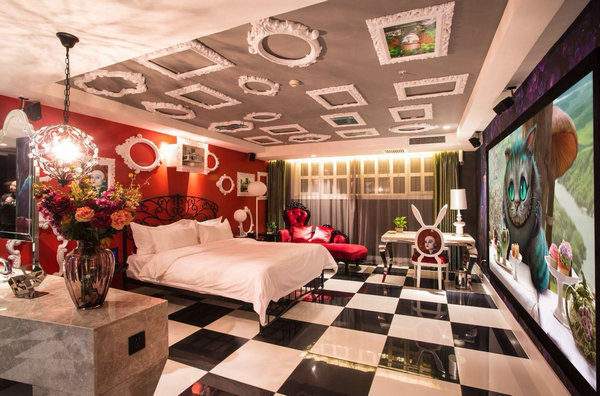 Light Movietel's Alice in Wonderland room creates a fantastical feel, from the patchwork of frames on the ceiling to the chessboard-pattern floor.[Photo provided to China Daily]
A new movie-themed hotel enables fans to stay overnight in their favorite flicks.
Light Movietel - a portmanteau of "movie" and "hotel" - which opened last month in Hebei province's Baoding, offers 61 rooms designed according to 10 themes featuring decorations based on blockbusters, actors and classics.
Ten nearly life-size Marilyn Monroe statues inside and outside the hotel strike the iconic "flying-skirt" pose captured by photographer Sam Shaw in 1954.
Founder He Yan tells China Daily the Hollywood legend is "an epitome of classic cinematography" that touches even visitors with the least interest in the big screen.
The former interior designer quit his Beijing job and raised about 20 million yuan ($3 million) in crowdfunding to transform an abandoned factory into a three-floor hotel with 1,860 square meters of floor area between 2014 and 2015.
Discarded film canisters adorn a tall wall in the lobby, which also houses oversized Oscar statuettes.
The Audrey Hepburn room features a wall mural of the British actress with her trademark smile.
A king-size bed in the Transformers room takes the shape of Bumblebee's head.
Lying in the Interstellar room's bed, you're looking up at a ceiling hand-painted to look like whirling white clouds.
The Alice in Wonderland room creates a fantastical feel, from the patchwork of frames on the ceiling to the chessboard-pattern floor.
The evil Red Queen stares from a wall portrait and vanity-chair print.
Rooms are equipped with smart-home systems that enable guests to control lights, curtains, a projector and a 133-inch screen. Over a thousand films can be viewed on the rooms' gizmos.
Interestingly, the most popular suite is the tuanhuo (gang) room with six 1.35-meter-wide beds.
"Youth prefer it since it serves as a gathering place to lie in bed to watch and discuss their favorite films," He explains.
The idea came to the hotelier, who was born in 1987, when he and his girlfriend were in university and wanted a private and elegant place to enjoy dates.
So he rode the startup wave, and started Light Movietel.
"It'll be not only a hotel but also a community and social-networking platform for film buffs," He says.
"We hope to provide more cinema-related services, such as holding press conferences for movie promos and selling spin-off productions of big-screen hits."
It doesn't hurt that Mysterious Foresee, a 60-minute online thriller mostly filmed in the hotel, has 2.49 million views on iQiyi.com, one of China's biggest video-streaming sites.
An adjacent movie-themed restaurant and a cinema will open in April and summer, respectively.
xufan@chinadaily.com.cn